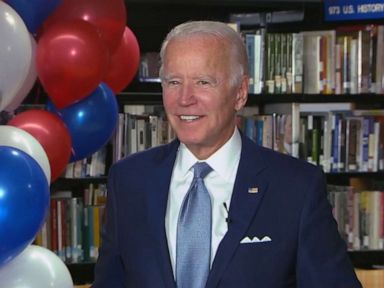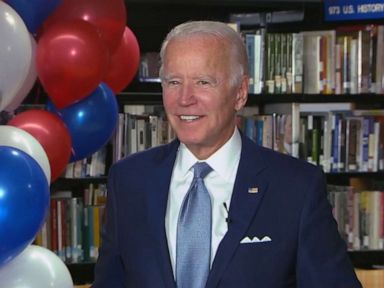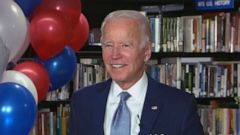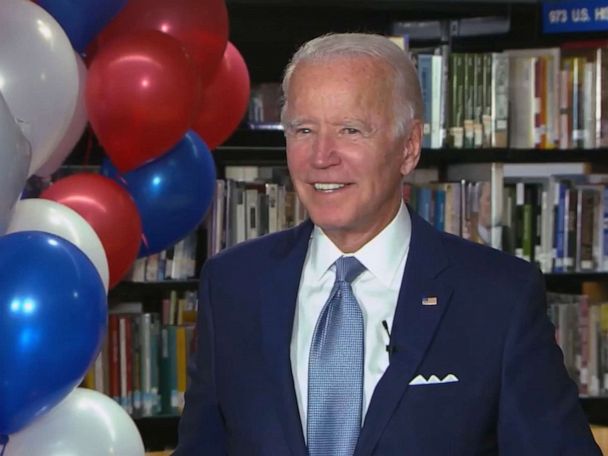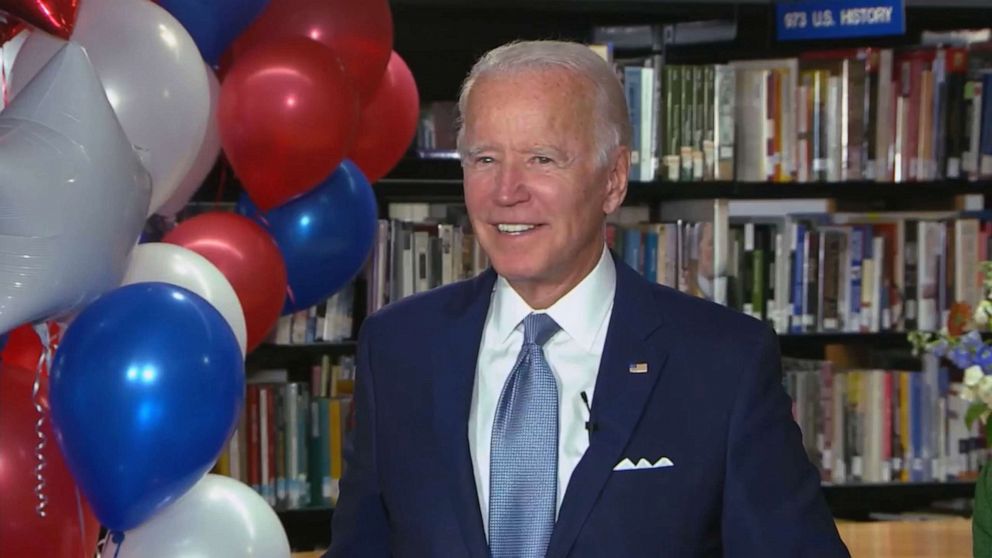 In his third campaign for president, former Vice President Joe Biden — who found his "comeback kid" moment in South Carolina on this year's primary trail — will formally accept the Democratic Party's nomination for president in a speech Thursday — 33 years after he made his first bid for the White House.
Under day four's theme of an "America's Promise," Biden will finally assume center stage at the Chase Center in Delaware — more than 800 miles away from Milwaukee, where the speech was slated to take place in person before the coronavirus pandemic upended the committee's plans and forced a shift to a mostly virtual format.
ABC News Live will kick off primetime coverage each day at 7 p.m. ET on the network's streaming news channel and primetime coverage will air from 10-11 p.m. ET each night of the convention on the ABC Television Network.
Refresh for updates.
8:06 p.m. NBA superstar Steph Curry and family endorse Biden
NBA superstar Steph Curry and his wife Ayesha Curry, a best-selling author and entrepreneur, endorsed former Vice President Joe Biden and appeared in a video featuring their children, Riley and Ryan.
"We want to ensure that our kids live in a nation that is safe, happy, healthy and fair," Ayesha Curry says in the video
"So this election — we're voting for Joe Biden," Steph Curry cuts in.
Per the Biden campaign, the video that plays tonight will offer a "candid look at a family conversation about politics and the state of America," and features Curry asking his two children to react to the news that Biden has selected a woman as his vice president.
Curry also endorsed Hillary Clinton in 2016.
— ABC News' John Verhovek
7:56 p.m. Kamala Harris urged Americans to make a 'voting plan.' Here's how:
In her opening remarks Wednesday, Sen. Kamala Harris encouraged Americans to form a plan to vote in November.
"I know many of you plan to vote this year, but amidst the excitement and enthusiasm for this election, you've also heard about obstacles and misinformation and folks making it harder for you to cast your ballot," she said.
"When we vote, we address the need for all people to be treated with dignity and respect in our country," Harris continued. "So each of us needs a plan. A voting plan."
The coronavirus pandemic brought on a number of changes to the way elections are conducted across the country, with a massive expansion of absentee and vote-by-mail programs.
While those issues are still being addressed and amid a variety of voting options, here's what you need to know to form a plan to vote in November:
— ABC News' Meg Cunningham
7:51 p.m. Intro video clip focuses on 2008 economic recovery
Ahead of Biden's speech, the campaign released a clip of the introduction video for the former vice president that will play during the DNC. The clip focuses on Biden's work on the 2008 economic recovery and how the lessons he learned as a child about financial hardship impacted him for the rest of his life.
"For the first time, Joe saw the heavy burden on a father, and It was a lesson he would never forget," the narrator says as childhood photos of Biden and his family appear on screen.
"A job, is a lot more than paycheck. It's about dignity," a woman's voice is heard saying — a sentiment Biden's father would tell the family and that Biden often repeats on the campaign trail.
The clip focuses on Biden's bipartisan work to get the recovery package passed and touts his role running the program.
7:33 p.m. New Mexico governor: Lack of Latino representation is 'easy criticism to launch at the DNC'
New Mexico Gov. Michelle Lujan Grisham tells ABC News' Linsey Davis that a lack of Latino representation is an "easy criticism to launch at the DNC."
"I have not seen any campaign do enough in any context to really reach Latino and Hispanic voters," she said in an appearance on ABC News Live Prime.
7:23 p.m. 12 conventions over 48 years: Joe Biden's history with the DNC
When former Vice President Joe Biden accepts the Democratic nomination on Thursday night, it will be a culminating moment more than three decades in the making, and will mark the 12th time in nearly half a century that he will attend the Democratic National Convention — albeit in a much different format than in previous years.
Elected to the Senate at age 29, few people in politics today have had as long a career as Biden. Now at age 77, if he wins the presidency in November, he will become the oldest person elected as president of the United States.
According to a search of online newspaper archives, C-SPAN online video archives and biographies about his life, Biden's history with the quadrennial gathering is as long as his own political career.
Read more about Biden's history with the DNC:
— ABC News' Molly Nagle
7:18 p.m. Excerpts from Yang, Bottoms, Baldwin and Buttigieg remarks
Convention officials released some excerpts of remarks from Andrew Yang, Atlanta Mayor Keisha Lance Bottoms, Sen. Tammy Baldwin, D-Wis., and former South Bend, Indiana, Mayor Pete Buttigieg, who are scheduled to speak before Joe Biden formally accepts the nomination.
Bottoms is expected to invoke the late Rep. John Lewis and the Civil Rights movement to push the country to vote.
"People often think they can't make a difference like our Civil Rights icons, but every person in the movement mattered—those who made the sandwiches, swept the church floors, stuffed the envelopes. They, too, changed America," she says in the prepared remarks. "We have cried out for justice, we have gathered in our streets to demand change, and now, we must pass on the gift John Lewis sacrificed to give us, we must register and we must vote."
Baldwin is set to lay out a vision for the country under Biden and Sen. Kamala Harris' stewardship.
"We all have stories like this. Stories about a time when the system was rigged against us. When we were counted out, left out, pushed out. Just think of what we've heard these past four days," she will say, adding that an America under Biden and Harris will be a nation that "plans," "builds" and "builds back."
The two former 2020 candidates, who are also set to be featured in a video with some of their other formal rivals, are expected to share why they are now lining up behind Biden and outline the stakes of the election.
"I have gotten to know both Joe and Kamala on the trail over the past year — the way you really get to know a person when the cameras are off, the crowds are gone, and it's just you and them. They understand the problems we face. They are parents and patriots who want the best for our country. And if we give them the chance, they will fight for us and our families every single day," Yang will say.
"Every American must now decide. Can America be a place where faith is about healing and not exclusion? Can we become a country that lives up to the truth that Black lives matter? Will we handle questions of science and medicine by turning to scientists and doctors? What will we do to make America into a land where no one who works full time can live in poverty," Buttigieg will say in his remarks.
— ABC News' Kendall Karson
7:11 p.m. Trump slams Biden near Pennsylvania childhood home hours before his DNC speech
President Donald Trump headed to the 2020 battleground state of Pennsylvania Thursday afternoon to make a campaign speech in the town of Old Forge, just a few miles from former Vice President Joe Biden's childhood home in Scranton — and just hours before Biden makes his own speech accepting his party's nomination for president in his adopted home state of Delaware.
"If you want a vision of your life under Biden presidency, think of the smoldering ruins in Minneapolis, the violent anarchy of Portland, the bloodstained sidewalks of Chicago, and imagine the mayhem coming to your town, and every single town in America," Trump said.
You can read more about Trump's campaign speech here:
7 p.m. Overview of Thursday's primetime program:
"This Time Next Year"
Remarks – Andrew Yang, American businessman
Introduction – Julia Louis-Dreyfus, American actress
Pledge of Allegiance – Cedric Richmond, Jr., Son of U.S. Rep. Cedric Richmond, D-La.
National Anthem – The Chicks: Natalie Maines, Martie Erwin Maguire and Emily Strayer
Invocation – Sister Simone Campbell, American Roman Catholic religious sister
Remarks – Sen. Chris Coons, D-Del.
Remarks – Atlanta Mayor Keisha Lance Bottoms
A Tribute to John Lewis – directed by Dawn Porter
Performance – John Legend, American singer-songwriter, and Common, American rapper, actor and writer
Remarks – Jon Meacham, American writer and author
Remarks – U.S. Rep Deb Halaand, D-N.M.
Remarks – California Secretary of State Alex Padilla and Michigan Secretary of State Jocelyn Benson
Remarks – Sen. Cory Booker. D-N.J.
"You Built America": A Conversation on the Economy with Biden
Remarks – Former U.S. Surgeon General Dr. Vivek Murthy
Remarks – Sen. Tammy Baldwin, D-Wis.
The Biden Plan: Military Families – A video on the Bidens' commitment to military families Remarks – Sen. Tammy Duckworth, D-Ill.
A Tribute to Beau Biden – A video that focuses on the remarkable life and career of Beau Biden
Remarks – Former South Bend, Indiana, Mayor Pete Buttigieg
"United We Stand" – Biden through the eyes of those who ran against him in 2020 — featuring Sen. Cory Booker, D-N.J., Former South Bend, Indiana, Mayor Pete Buttigieg, Sen. Amy Klobuchar, D-Minn., Former U.S. Rep Beto O'Rourke, D-Texas, Sen. Bernie Sanders, I-Vt. Sen. Elizabeth Warren, D-Mass., and Andrew Yang
Remarks – Former New York City Mayor Mike Bloomberg
The Biden Grandchildren – A video focused on Biden's grandchildren
Remarks – Ashley Biden and Hunter Biden, Biden's children
Biden Introduction – The story of Biden's life, up to this moment
Remarks – Former Vice President Joe Biden, 2020 Democratic nominee for president
7 p.m. Last night for Dems to make their case in primetime
Thursday is the Democrats' last night to make their case in primetime before Republicans take the spotlight next week and President Donald Trump accepts his party's nomination from the White House.
"Being president doesn't change who you are, it reveals who you are," the Democratic National Committee said in a release. "On the final night of the convention, we will hear from those who can speak to Joe Biden's leadership and character. Joe Biden will speak about his vision for uniting America to move us forward out of constant chaos and crisis, and for delivering on that promise for all."
7 p.m. Overview of Thursday night's speakers, performers
Thursday's primetime programming includes speeches from four of Biden's former opponents in the race for the Democratic nomination — Sen. Cory Booker, D-N.J., former South Bend, Indiana, Mayor Pete Buttigieg, former New York City Mayor Mike Bloomberg and Andrew Yang — along with two officials who were on his shortlist for running mate: Sen. Tammy Duckworth, D-Ill., and Atlanta Mayor Keisha Lance Bottoms.
While Trump has slammed Democrats this week for airing pre-taped DNC speeches, Biden said he doubts the party will ever return to conventions of the past, deeming the new format provoked by the pandemic landscape "inclusive," "creative" and "a template for the future."
Thursday's lineup of speakers: