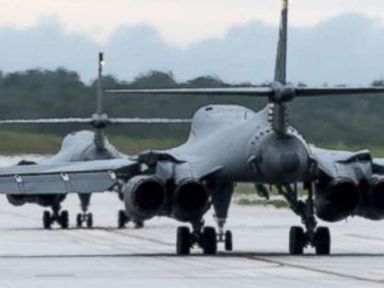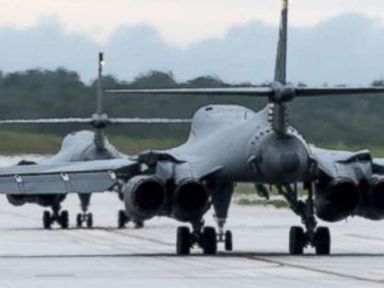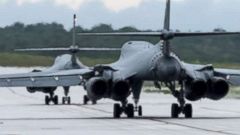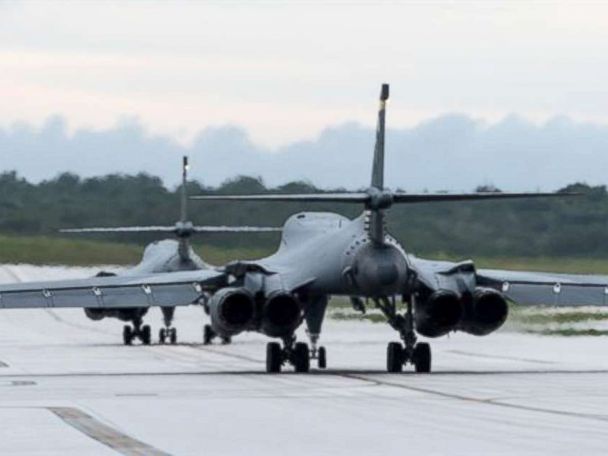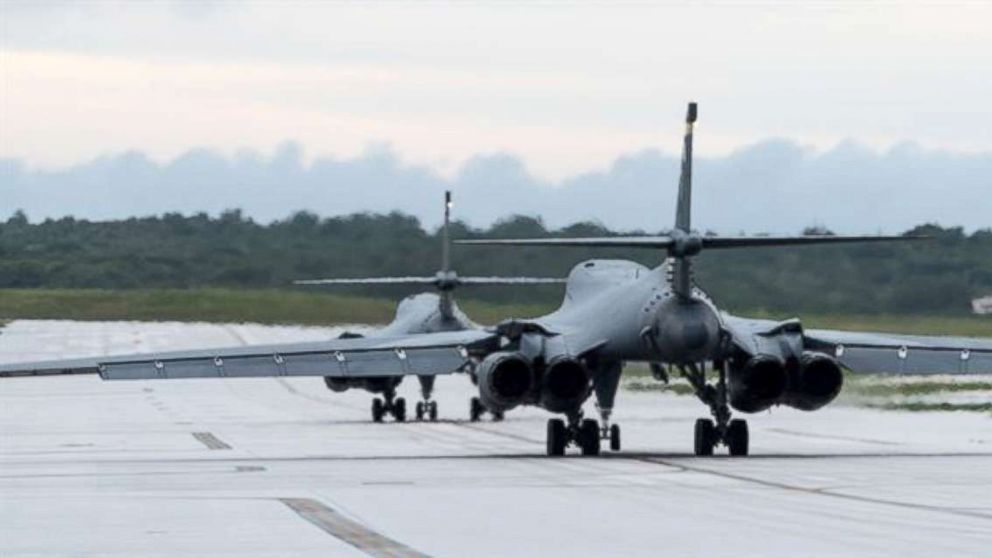 The U.S. military conducted another show of force to North Korea today as long-range B-1 bombers flew a nighttime mission over the Sea of Japan accompanied by Japanese and South Korean fighter aircraft.
The two bombers flew to the Sea of Japan from Andersen Air Force Base in Guam.
A U.S. Pacific Air Forces statement described the mission as "the first time U.S. Pacific Command B-1B Lancers have conducted combined training with JASDF and ROKAF fighters at night."
"Participating in bilateral training enables the operational units to improve their combined capabilities and tactical skills, while also building bilateral confidence and strong working relationships," according to the statement.
"Flying and training at night with our allies in a safe, effective manner is an important capability shared between the U.S., Japan and the Republic of Korea and hones the tactical prowess of each nations' aviators," U.S. Air Force Maj. Patrick Applegate of the 613th Air Operation Center said. "This is a clear demonstration of our ability to conduct seamless operations with all of our allies anytime anywhere."
The mission was the latest show of force to North Korea after its long-range intercontinental ballistic missile (ICBM) tests and hydrogen bomb test that have ratcheted tensions with the United States. Such missions have been conducted immediately after the provocations, but more recently as stand-alone events to demonstrate to North Korea U.S. military capabilities that would counter a North Korean military threat.
In late September, B-1 bombers flew the first mission this century north of the demilitarized zone (DMZ) that divides North and South Korea. Accompanied by U.S. Air Force F-15 fighters, the bombers flew the mission more than 200 miles east of the Korean peninsula. At the time, the Pentagon's chief spokesman said the mission was in response to North Korea's recent ICBM and nuclear tests.
The United States has a rotating squadron of long-range B-1 bombers stationed in Guam known as the Continuous Bomber Presence.
"Continuous Bomber Presence missions ensure the U.S., along with key allies, have a credible capability to respond to a variety of levels and types of threats throughout the Indo-Asia-Pacific region," the Air Force statement said. "These actions are consistent with long-standing and well-known U.S. freedom of navigation policies that are applied to military operations around the world."