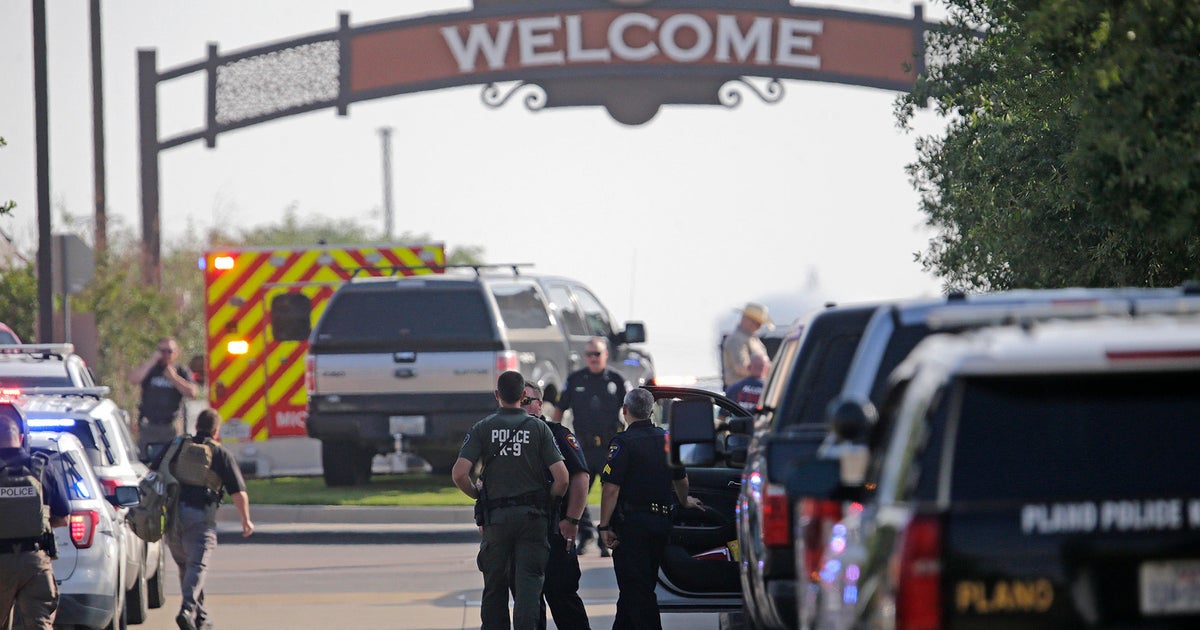 After a mass shooting at a Texas mall shooting left eight people dead and seven others wounded on Saturday, people who witnessed the massacre and its aftermath described the "unfathomable" scene.
Steven Spainhouer rushed to Allen Premium Outlets — a shopping center in Allen, a Dallas-Fort Worth suburb, where the shooting happened — when his son called just after 3:30 p.m. local time and said he had heard gunfire.
"When I heard those shots, and then when the multiple shots happened, my heart just immediately just dropped," said Spainhouer's son, who works in the H&M store at Allen Premium Outlets. The shooter opened fire in the parking lot outside, authorities said.
In an emotional interview with CBS News Texas, Spainhouer recalled performing CPR and administering aid to those suffering from injuries in the lot. He arrived at the scene before authorities, who did not get there for about 10 minutes, according to CBS News Texas.
"I never imagined in 100 years I would be thrust into the position of being the first first responder on the site to take care of people," Spainhouer said, noting that at least three victims could not be saved even after he applied CPR.
"The first girl I walked up to was crouched down covering her head in the bushes," he recalled. "So I felt for a pulse, pulled her head to the side, and she had no face."
Spainhouer also helped a child who survived the shooting and was hiding beneath his mother's body. The mother had died.
"When I rolled the mother over, he came out. I asked him if he was OK and he said, 'My mom is hurt, my mom is hurt,'" he said. "So, rather than traumatize him anymore, I pulled him around the corner sat him down."
The boy was "covered from head to toe" in blood, Spainhouer told CBS News Texas, "like somebody poured blood on him."
Spainhouer said, "no one can see what they saw today and not be affected by it."
"It's just unfathomable to see the carnage," he continued. "It's tough when you see a family that's out shopping, having fun, get wiped off the face of the earth because somebody with a gun has some other type of issue."
At a news conference Saturday night, Allen Fire Chief Jonathan Boyd told reporters that six victims were pronounced dead at the scene of the afternoon shooting, and another nine were transported by paramedics to nearby hospitals. Two of the wounded people later died from their injuries, Boyd said. At the time, three of the hospitalized victims were in "critical surgery" and four others were in stable condition, according to the fire chief. Their names were not immediately released.
Among those pronounced dead on scene was the suspected gunman, who was shot and killed by an officer, officials confirmed. The suspect can be seen on a viral dashcam video pulling into the lot outside of Allen Premium Outlets in a silver sedan, getting out of the car and, without closing driver's side door, opening fire on a group of people standing on a sidewalk. Dozens of additional shots can be heard as the suspect then moves closer to the shoppers.
Allen Police Chief Brian Harvey said that an officer who was responding to an unrelated call nearby heard the gunfire, responded to the scene and "neutralized" the suspect. Authorities believe that the shooter acted alone, according to the police chief.
President Joe Biden on Sunday issued a statement calling the shooting "too shocking to be so familiar" and again called on Congress to pass an assault weapons ban.
"Too many families have empty chairs at their dinner tables," Mr. Biden said. "Republican Members of Congress cannot continue to meet this epidemic with a shrug. Tweeted thoughts and prayers are not enough. Once again I ask Congress to send me a bill banning assault weapons and high-capacity magazines. Enacting universal background checks. Requiring safe storage. Ending immunity for gun manufacturers. I will sign it immediately. We need nothing less to keep our streets safe."
News helicopters captured aerial footage that showed hundreds of people leaving the outlet mall at around 5 p.m. on Saturday. Shoppers who had been inside at the time of the massacre recalled hiding in various locations, as the mall ordered all patrons to shelter in place, in comments to the Dallas Morning News.
"It was a scary moment," said Sheila Faulks, who hid with her husband, Dale Faulks, in a storage room at the Crocs store. "It puts you in a different frame of mind. It was an uneasy moment."
Brishon Brisby, a 27-year-old from North Dallas who went to the shopping center with her family to return a pair of shoes, told the Dallas Morning News that they were near the Tory Burch store when she heard gunfire in the distance and people yelling "shots fired." Brisby said she heard a second round of gunshots and remembered people running, screaming and crying. Police chased her out of the parking lot, according to the Dallas Morning News.
Brisby told the newspaper that she is afraid. "If it can happen today, it can happen tomorrow," she said.