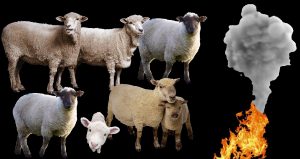 "Just another manic Monday…whoa whoa…wish it were Sunday."
Another Sunday has arrived and as usual the Liberal/Progressive/Socialist/La Raza/Diversity Democrats gave us more than "one man could ask for" as if an actual man would talk to any of these knobs.
Detroit decided to invite the exact belief system that ruined its city back to "make more promises that'll never be kept".
"R-E-S-P-E-C-T, find out what it means to me."
Oh, I think we know, you Farrakhan fools.
What is it with Detroit?
Must be something in the water.
Furthermore what is it with the collection of eggos and uggos on stage?
"Don't you forget about me."
I CAN'T!
It's as though they share the same family tree with one perverted branch.
Are they trying to re-create the famous bar scene in Star Wars?
Speaking of Star Wars it appeared that Tulsi Gabbard attempted to channel Princess Leia with her all white ensemble.
Tsk tsk Tulsi. That was one PRIVILEGED outfit.
I had to laugh at the "Hawaiian Democrat" when she started on about black and brown people in America.
This pinko is whiter than I am then again so was Michael Jackson…at the end.
Hey Tulsi…Just Beat It you canard card carrying Stalinista.
Apparently CNN thought so too because by the time the "show" was over they had her down as a Putin plant and if anyone should know it would be Don I am a Lenin..err…Lemon.
House plant maybe, but why would bad Vlad bother with Clapback Gabbard when Obama, who promised to bend over at the waist and touch his toes, still has John Kerry running around Iran.
Oppression doesn't care if you are "Black or White," do things for "Love or Money" or "slip out the back Jack" there will always be "Some people that did something".
Hillary leaked Uranium, Barack leaked hate, and James Comey leaked to the Press.
Interestingly enough and according to reports, Comey the Clown will not be indicted for his crimes.
Hmmm…Bill Barr.
A smoother version of Jeff Sessions?
Enquiring minds want to know.
Speaking of mindless drivel another actress decided to jump into the Twitter fray with a shot at Kamala Harris.
The shot was calling Harris "overconfident".
Apparently that "triggered" some people who "if they had son would look like Trayvon".
Don't you just love Barry-Barack-Leader of the Choom Gang-Soetoro-Obama.
He created an entirely new language.
Ebonics has been replaced by Obonics!
Who be down wit sum dead Presidents, red lines dat everyone crosses, and health care and doctors dat nobody can keep…period.
I be, you be, we be, just aks me!
I digress or is it diverse or inverse or reverse or Converse.
I know it isn't Nike.
You'll never find me on my knees, unlike the cancer named Colon, who lives off the slave labor of Chinese children.
The aforementioned bigoted actress and White Guilt apologist named Ellen ended up being ripped by supporters of Criminal Harris also known as Black Lives Matter Unless They Are Killing Each Other In Chicago, Detroit, or Elijah's Baltimore.
As I was only willing to spend sixty-seconds on this stupidity I never found out whether or not the white actress unfurled the ultimate Liberal line and said, "I can't be a bigot, my husband is black."
I just love it when Liberals play the race card on each other.
No you're a bigot! No you're a bigot! Why can't they all be bigots?
They are.
Can't you just envision these clowns sitting at a table playing gin.
Someone would play the Ace of Spades and Corey Booker would go all Spartacus screaming at the women and old men with his inverted chest and spineless back.
Someone else would flip up the Queen of Hearts and Kamala would wig out (Yes her hair "style" is "cultural appropriation" and might now be illegal in California. Let me check with Rachel Dolezal) by ranting that she did love Willie Brown at one time.
Well, maybe one time.
Well, she did something to him, at least one time.
Not to be outdone both Buttigiggy and Bernie would start moaning that the deck is stacked and that everyone needs a new deck, their own deck, free of charge to all, for as long as the deck is stacked against gay, white, communist men who proclaim to speak for God and also know that women like to be gang-raped.
Over in the corner is Hillary on her eighth gin being propped up by Huma as Weiner updates his MySpace profile and announces every five minutes "Epstein is still in the clink, it's time to drink."
Some would ask why Hillary is even in the room.
As everyone should know by now she holds the "suicide King".
How very Seth Rich of her.
All propaganda, all lies, bleat the sheep.
Where there's smoke there's fire,
It's time to build an American pyre.
Jason Kraus
www.aleadernotapolitician.com
www.freeamericanetwork.com