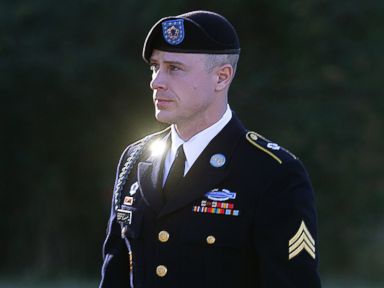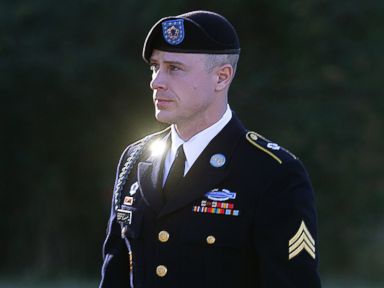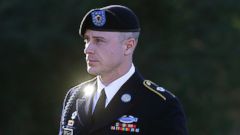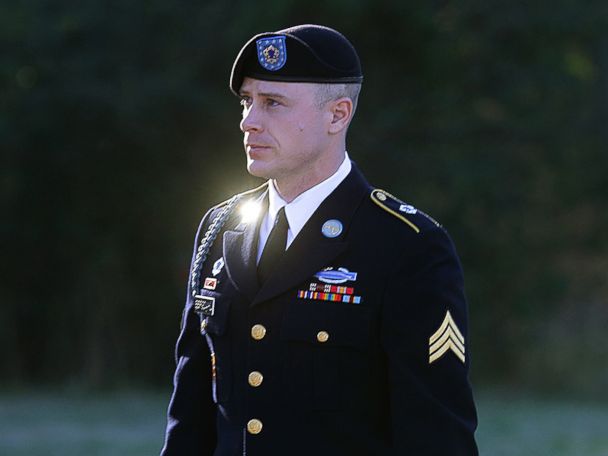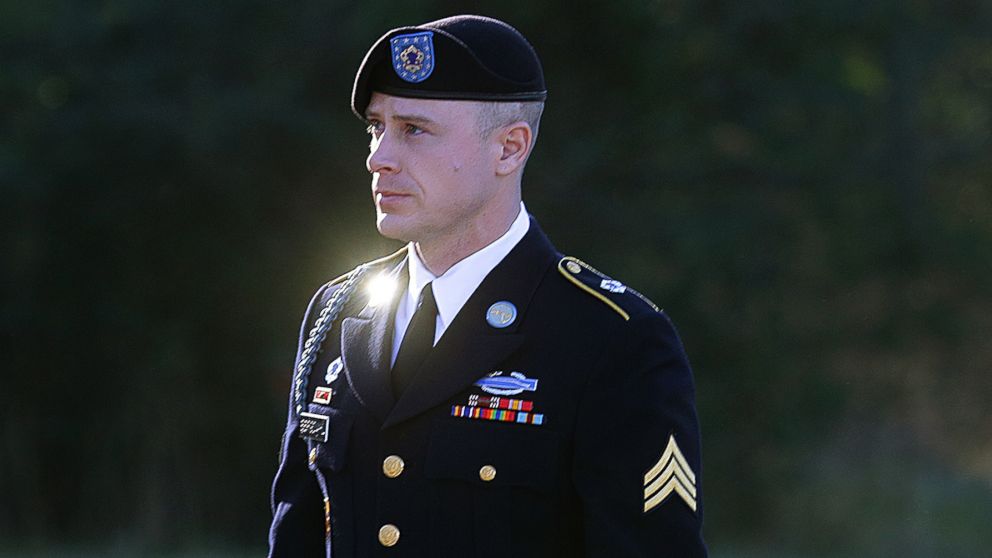 Former Taliban prisoner Bowe Bergdahl is expected to plead guilty to charges of desertion and misbehavior before the enemy in a military hearing that begins at Fort Bragg today as he doubts that he could get a fair trial following campaign statements by Donald Trump.
Despite surviving five years in a Taliban cage, Trump had called Sgt. Bergdahl a "traitor" who should be executed in several campaign speeches as a presidential candidate.
In an on-camera interview shot last year by a British filmmaker, obtained exclusively by ABC News and airing today on Good Morning America, World News Tonight with David Muir and Nightline, Bergdahl says the words of the man who is now his commander-in-chief would have made a fair trial impossible.
"We may as well go back to kangaroo courts and lynch mobs that got what they wanted," Bergdahl said. "The people who want to hang me, you're never going to convince those people."
The 501st Parachute Infantry Regiment trooper walked off his combat outpost in Afghanistan in June 2009 and was immediately captured by the Taliban. During his five years in captivity with the Haqqani network — the same Taliban faction that held American Caitlan Coleman and her family hostage for five years until being freed last Wednesday — Bergdahl endured what one U.S. official called the worst case of prisoner abuse since the Vietnam War.
He was released in 2014 in exchange for five Taliban prisoners who had been detained at Guantanamo Bay, a deal that was harshly criticized on the campaign trail by then-candidate Trump, who called Bergdahl "garbage" and even suggested that he should have been summarily executed.
"You know in the old days — Bing. Bong," Trump said as he mimicked firing a rifle. "When we were strong."
Speaking to British war filmmaker Sean Langan, who was himself held captive by the same Taliban group in 2008, Bergdahl says he wants to fight back against what he calls a false narrative fueled by conservative outlets like Fox News that sought to portray him as a traitor and jihadi sympathizer who had been convinced to fight against the United States alongside his captors.
Such rumors were false, military officials have said.
"You know, it's just insulting frankly," Bergdahl told Langan. "It's very insulting, the idea that they would think I did that."
In 2014, then-Fox News correspondents Megyn Kelly and James Rosen reported on "secret documents" obtained by the network which purported to show that Bergdahl had "shown affection" for his captors, converted to Islam and become a "Mujahid," or jihadi, himself.
According to Bergdahl, however, he thought the conditions in captivity might kill him before his captors could.
"It was getting so bad that I was literally looking at myself, you know, looking at joints, looking my ribs and just going, 'I'm gonna die here from sickness, or I can die escaping,'" Bergdahl said. "You know, it didn't really matter."
He attempted to escape twice, according to military officials, and he was severely punished after being re-captured. Terrence Russell, a military official who debriefs former U.S. captives for the U.S. Joint Personnel Recovery Agency, says Bergdahl was tortured in a way reminiscent of the brutality visited upon prisoners of war in Vietnam decades ago.
"When they recaptured him and brought him back, the next day they spread-eagled and secured him to a metal bed frame," Russell says to Langan in another video. "They took a plastic pipe … and they started beating his feet and his legs repeatedly with this plastic pipe. … The idea was to just beat him and injure his legs and his feet so that he could not walk away again."
Bergdahl also says he was confined for more than four years to a cage that was only seven feet long and six feet wide.
"From first year," Bergdahl said when asked how much time he spent in that cage. "So second, third, fourth and then into the fifth year."
It remains a mystery, however, why Bergdahl walked off his post in the first place.
Another senior official who spoke to Langan for his documentary was retired Army Lt. Gen. Michael Flynn, who as the former head of intelligence for special operations in Afghanistan and then as director of the Defense Intelligence Agency was deeply involved in the early search for Bergdahl.
He also briefly served as President Trump's national security adviser after working on his campaign, and he told Langan that he "absolutely" believes Bergdahl left the base with the intention to meet the Taliban.
But Bergdahl disputes that, claiming in a taped conversation with filmmaker Mark Boal that was broadcast in the second season of the Serial podcast that he walked off post in an attempt to report to senior officers that his platoon commander was "unfit" for his position.
Bergdahl has not been charged with any crime related to aiding the enemy.
Whatever his reasons were, at least two soldiers were seriously wounded during the search to find him, as ABC News first reported in 2014. Following his guilty plea, the question remaining before the military is what form of punishment Bergdahl deserves.
On that question, even Flynn doubted that justice would be best served by putting a former prisoner back in prison.
"So the guy deserted his men, his soldiers, his squad – no doubt," Flynn said. "[But] I don't think he should serve another day in any sort of confinement or jail, or anything like that because frankly even though he put himself into this situation to a degree, we the United States government and the United States military put him in Afghanistan."