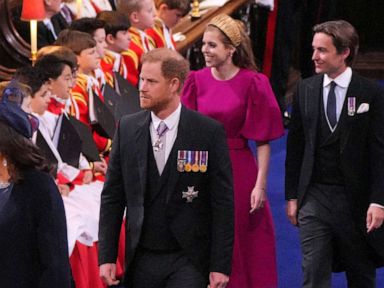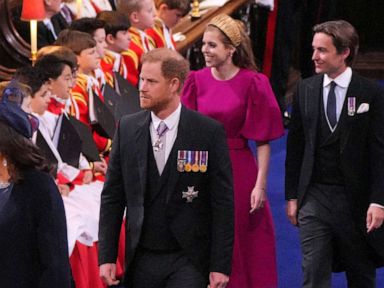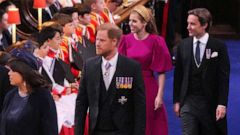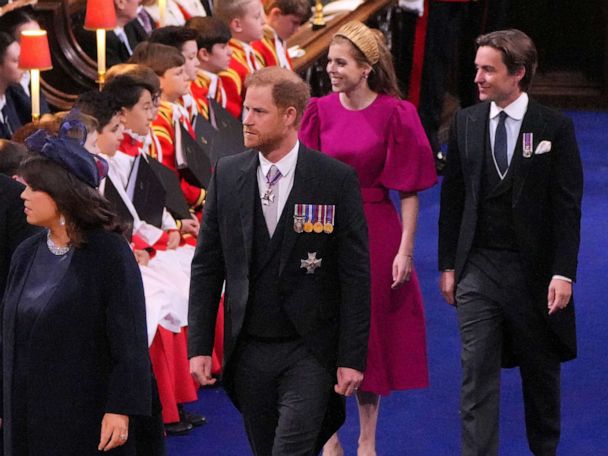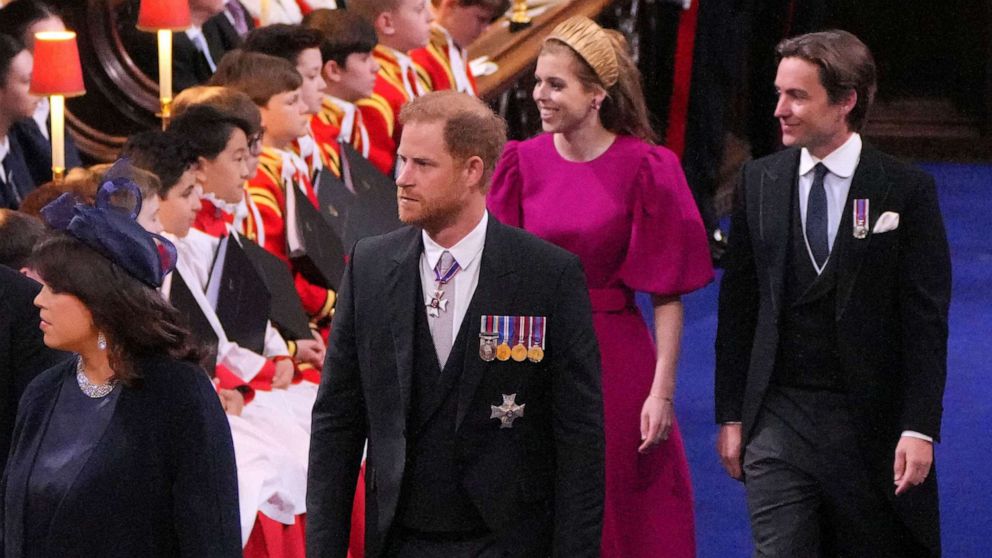 Prince Harry arrived at Westminster Abbey to support King Charles III during his coronation on May 6.
Harry, who now lives in California, made his appearance at the event on Saturday seemingly in good spirits, flashing a big smile as he entered the venue with his cousins, Princess Beatrice and Princess Eugenie, along with their husbands.
Prince Harry and Princess Anne, along with the Prince and Princess of Wales, are among the royals attending the coronation.
Following the dress code for most of the guests in attendance, Harry could be seen wearing a morning suit and attended the ceremony alone without his wife, Meghan, the Duchess of Sussex, who remained at home in California with their two children, Prince Archie and Princess Lilibet. The date of the coronation also coincides with the birthday of Archie, who turned 4 on Saturday.
During the religious service for the ceremony, Harry was seated in a row with other guests including Princess Beatrice, Princess Eugenie and their husbands.
Harry's appearance at the event marks his first public reunion with other members of the royal family for the first time in eight months after he was last seen together with them at Queen Elizabeth II's funeral in September.
In the months after the funeral, Harry — now the fifth in line to the throne — released a bestselling memoir entitled, "Spare," which publicly laid bare his rift with his immediate family members.
He told "GMA" co-anchor Michael Strahan in January that, in speaking out, he hoped to be able to reconcile with his family.
"If we can get to the point of reconciliation, that will have a ripple effect across the world," Harry said in the interview. "I genuinely believe that, and that's kind of what is pushing me. And if that doesn't happen, then that's very sad."
After the service, Harry was seen leaving the Abbey and entering a car. As a non-working royal, Harry did not join other members of the royal family in the procession back to Buckingham Palace.
Sources told ABC News royal contributor Omid Scobie that Prince Harry, Duke of Sussex, will be heading back to the United States soon after the service.
"We saw him arrive on Friday evening getting ready, of course, for the big day to support his father at the coronation ceremony," Scobie said. "But, of course, he also has duties back in Montecito, California, and sources close to the duke say that it is going to be an in-and-out trip for him. Just here to be part of that moment in Westminster Abbey, support his father and then be back at home to support his own family in Montecito."
ABC News' Morgan Winsor contributed to this report.