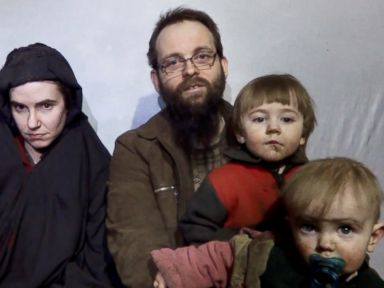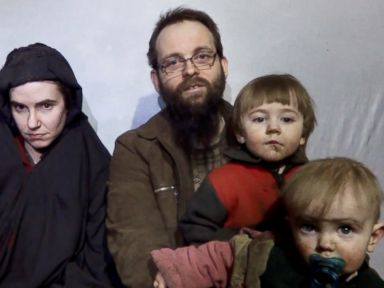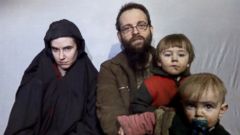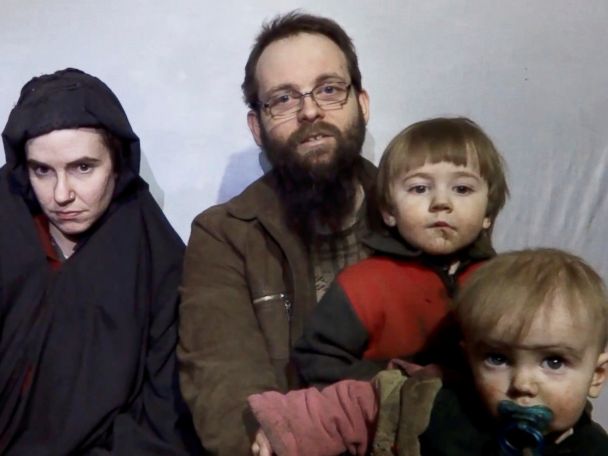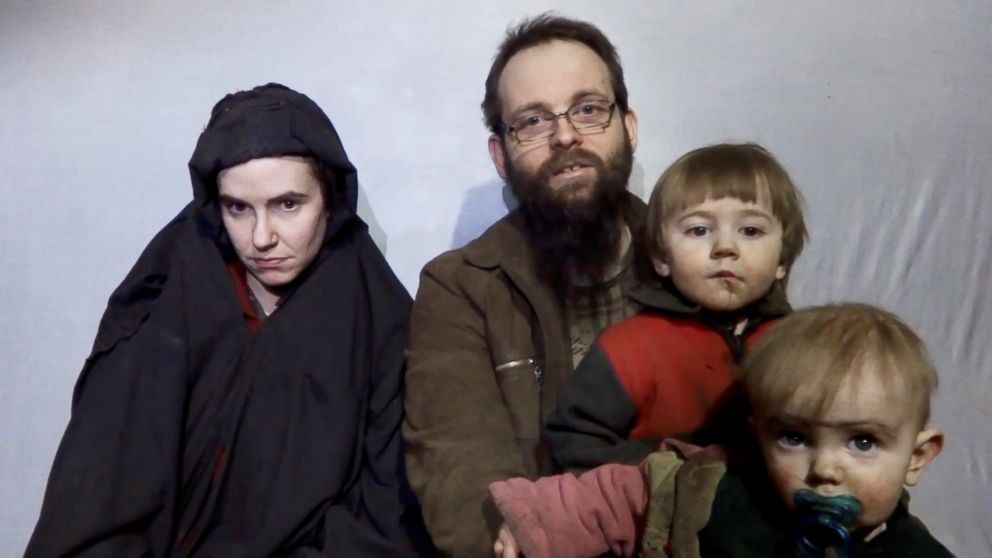 An American woman, her Canadian husband and their three young children — all of whom were born in captivity — were rescued on Wednesday, five years to the day since the couple was kidnapped by the Taliban in Afghanistan, ABC News has learned.
Caitlan Coleman, 31, and her husband Joshua Boyle, 34, who were abducted while hiking in Afghanistan's Ghazni province in 2012, were secured in an exchange between Pakistani military and U.S. commandos late Wednesday in a secret operation to bring them home after one of the longest — and strangest — American hostage ordeals in recent history, counterterrorism officials revealed.
According to two counterterrorism officials, U.S. special operations forces were considering a raid to rescue the family until they were suddenly moved over the weekend to a new location with terrain that would have made an operation difficult. Yesterday, to the surprise of many within the U.S. military and government, the Pakistani Army announced that the family had been obtained.
The captor network was believed by intelligence and counterterrorism officials to have been part of the al-Qaeda-aligned Afghan Haqqani Network — which also held Army Sgt. Bowe Bergdahl prisoner for five years until May 2014 — but no one ever asked the families to pay ransom. The Haqqanis also have close ties to Pakistan's Inter-Services Intelligence Directorate.
The Colemans were tipped by the FBI yesterday that news was coming in their case.
"The U.S government called us Wednesday afternoon," Jim Coleman said this morning, when reached by phone by ABC News. "They told me to sit down and then they told me what had happened. All they told me was that they were in 'friendly hands.'"
A senior national security official said the Boyle-Coleman family has not yet departed Pakistan, as they weigh where they want to go now they have tasted freedom for a few precious hours.
"They're in Pakistan and they are safe," the official told ABC News.
"Close coordination" between U.S. and Pakistani authorities led to the almost anti-climactic end of the five year hostage saga.
"We should all celebrate that they are out of the hands of the Taliban. We have secured their release," the official said, but added that the couple are still making decisions while surrounded by elite American commandos protecting them.
"Individuals have a say in where they wish to reside and that's still in flux," the senior official said.
Only days ago, the family was shown in a video filmed by their captors and sent to their families last January. The Boyle family provided it to the Toronto Star and to ABC News.
It shows the couple's four-year old son is shown sitting on his father's lap, dressed in the same filthy clothing as in a video posted on YouTube last December. Caitlan is shown cradling their second child, still an infant. A third child has since been born as well, sources told ABC News.
In the video, Joshua Boyle light-heartedly cracked jokes about letters received in reply from their parents in record time and said the conditions of their captivity had improved around the beginning of the year.
The young mother, who grew up in Stewartsttown, Pa., tells her father, Jim Coleman, that her personality in captivity has changed from being like one Disney heroine to another.
"I would also like to say to my father specifically, that I think you would like to know that my time in—married, and my time as a mother, and my time in prison that I've become more of a Belle than an Ariel," Caitlan Coleman, known as "Caity" to her parents, explains.
Her father told ABC News earlier this week that his daughter was trying to contrast one animated Disney character, Ariel of "The Little Mermaid," who was rebellious and defied her father, with Belle of "Beauty and The Beast," who tried to protect her father from evil.
"She is telling me, 'Dad, I wish had listened to you more and not been Ariel and more a Belle," the elder Coleman said. "It's a lot of humility and self-analysis of why she is in this situation."
A senior official involved in hostage recovery told an ABC News reporter in January 2016 that the hostage family was to be freed in a deal following the successful recovery of Colin Rutherford, another Canadian in Haqqani hands. He was soon freed but Coleman was not.
It soon emerged that the Taliban were upset over reports that Anas Haqqani, brother of the No. 2 Afghan Taliban commander Sirajuddin Haqqani, had been prosecuted, convicted and sentenced to death in secret proceedings in Kabul.
In August 2016, the Haqqani Taliban snatched two professors from American University of Kabul, one American and one Australian, in retaliation for Anas Haqqani's death sentence. A few months later, in December, the Colemans appeared in a new video — seen for the first time with their children, who were born as hostages — warning that their survival depended on a reprieve for Taliban prisoners.
The families were soon told privately by Afghan officials that Anas Haqqani had been spared execution but that his release was politically impossible, U.S. and Afghan officials told ABC News earlier this year.
In the waning days — and even the last hours — of the Obama administration, diplomats tried hard to broker a deal for Coleman's release, to no avail, according to several Obama aides who discussed the previously unreported hostage recovery efforts.
It was unclear Thursday morning whether the Boyle-Coleman family's freedom came as the result of a new deal.
Caitlan's husband seemed more optimistic than in the ominous videos the Taliban released in December, which appeared to have been made at the same time as the private January video addressed to their families.
"Things here are going about as can be expected," Boyle says in the January video. "But we were buoyed to receive your letter, and for the first time we have hope that things might wrap up soon, God willing."
In a private letter to his family, who provided it to ABC News, Boyle made it clear that the years of captivity in the most austere of conditions had taken a toll on their sense of hope.
President Trump in a tax speech he made in Pennsylvania on Wednesday made a cryptic reference to a country he did not name where "something happened," and that Americans would "probably be hearing about it over the next few days."
One counterterrorism official said they believed it was a reference to Pakistan's assistance in freeing Coleman and her family.
"America is being respected again. Something happened today, where a country that totally disrespected us called with some very, very important news," Trump told the crowd. "And one of my generals came in, they said, 'You know, I have to tell you, a year ago they would've never done that.' It was a great sign of respect. You'll probably be hearing about it over the next few days. But this is a country that did not respect us. This is a country that respects us now. The world is starting to respect us again, believe me."