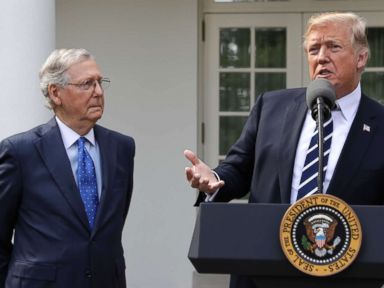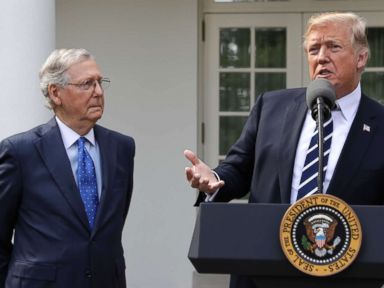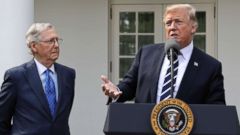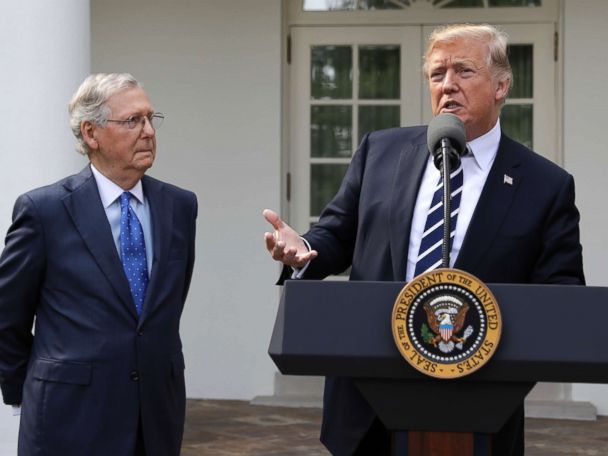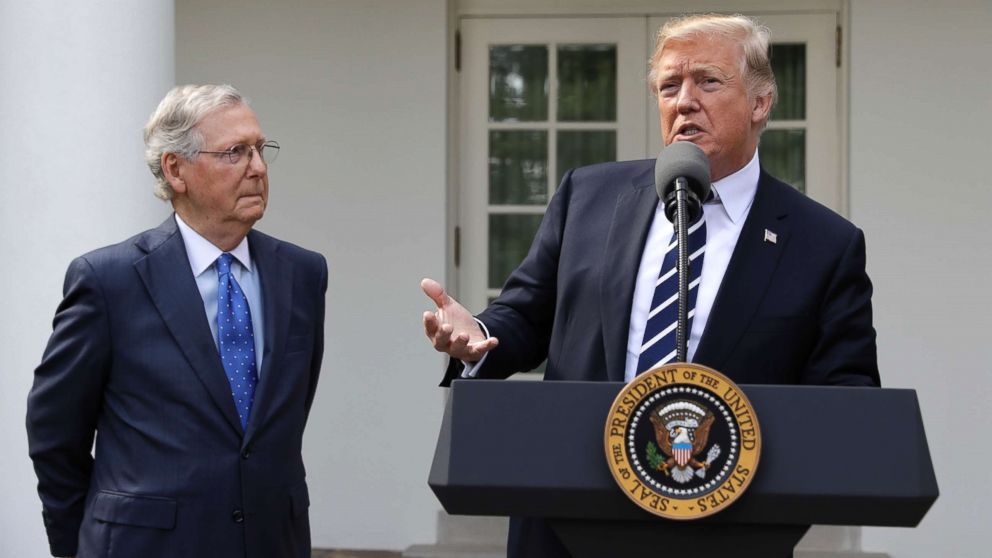 The TAKE with Rick Klein
When President Trump declared that he's "closer than he's ever been" to Senate Majority Leader Mitch McConnell the two men were practically touching each other.
Real or fake, temporary or lasting, the fact that Trump chose to highlight this particular alliance just days after Steve Bannon's declaration of war on the establishment was an unmistakable signal that the president wants to get serious about governing. Whether or not he succeeds in talking Bannon out of supporting primary challengers, Trump has chosen sides — at least for now.
But his side is crowded — not with allies, but with agenda items that the president tossed over to his "friend" to handle.
Taxes are the biggest immediate challenge. Now add drug prices, health care, the Iran deal, and welfare reform (where did that come from?), and Senate GOP leaders are facing a complicated slate of issues.
Each has its own challenge and each is linked. Success could beget success — and failure could give birth to some ugly results. Alliances and rivalries impact the ability to move forward.
Headline grabbing distractions — such as the inexplicable claim that Trump respects the families of fallen soldiers more than his predecessors and the predictable sparring with Hillary Clinton — further complicate efforts to remain clearly focused on broader goals.
When McConnell and his colleagues are back on Capitol Hill – alone – they get to answer for Trump's wanderings.
Come what may, Trump made something clear before his all-over-the-map news conference: For the lack of legislative accomplishments, he said, "I'm not going to blame myself."
The RUNDOWN with MaryAlice Parks
FIRST ON ABC — Everytown for Gun Safety and Moms Demand Action for Gun Sense will announce later today that their grassroots activists plan is to call Congress one million times this year in opposition to any NRA-backed bills on silencers and concealed carry reciprocity.
Plus, the national groups, which grew out of the Sandy Hook mass casualty shooting, say they will engage in the upcoming Virginia gubernatorial race as well. Their members plan to make 100,000 calls to get-out-the-vote in the battleground state in the next three weeks.
"The calls are part of a broader effort to #RejectTheNRA in the wake of Vegas — volunteers across the country are hosting 700+ events this month…. We'll prove that while the NRA represents the gun manufacturers, we have the people — which we will demonstrate by lighting up people's phones," organizers wrote to ABC News.
The TIP with Ali Rogin
President Donald Trump called Senate Health, Education, Labor and Pensions chairman Lamar Alexander over the weekend to encourage "a bipartisan agreement with Senator (Patty) Murray that would help stabilize premiums so people wouldn't be hurt by these skyrocketing premiums," Sen. Alexander told reporters Monday.
He added that Trump also called him the previous Saturday.
Alexander suggested that Trump and Senate Democratic Leader Chuck Schumer are encouraging him to achieve a bipartisan deal with Murray – but he notably didn't mention his own leader, Sen. Mitch McConnell.
Alexander and Murray have been negotiating an agreement, but have hit roadblocks as Republicans want more concessions from Democrats.
The big question: What influence did the Trump call have on those talks?
WHAT YOU NEED TO KNOW TODAY:
QUOTE OF THE DAY
"No, not at all." President Donald Trump on whether he is considering firing Special Counsel Robert Mueller.
NEED TO READ
The Note is a daily ABC News feature that highlights the key political moments of the day ahead. Please check back tomorrow for the latest.