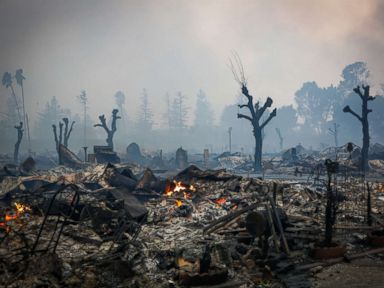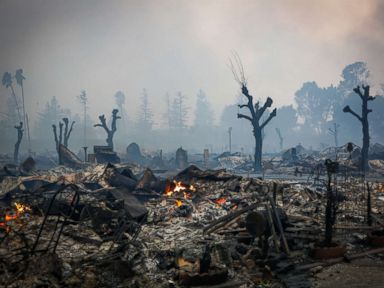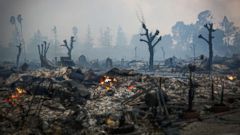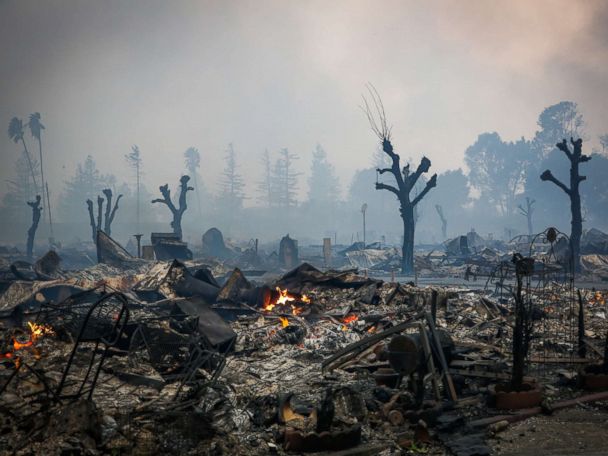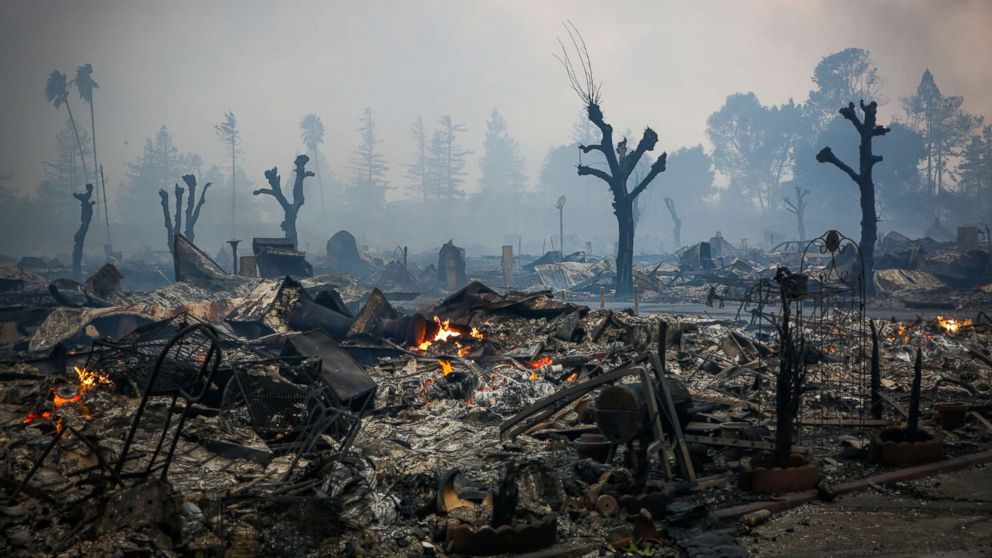 Entire neighborhoods were scorched beyond recognition in the Santa Rosa, California, area, after fast-moving wildfires tore through, killing at least nine people.
Resident Joshua Corbett posted these photos on Instagram, writing, "This used to be a where I lived. The neighborhood is gone."
"I tried digging through the debris hoping something of mine was still there. Nothing," Corbett wrote. "I thankfully have most my clothes, and whatever valuables I could throw into my car in the 20-minute period between waking up and being forced to leave despite wanting to grab more of my things. It wasn't the fire that made me decide to stop packing. The smoke was too much, I couldn't handle it. Being out there was surreal, everything is burnt and destroyed."
"Please continue to send prayers our way," he wrote. "We need it."
Corbett told ABC News via email he was awoken at 2:20 a.m. by neighbors banging on his door and ringing his doorbell. When he opened the door, he said he was greeted by intense wind and smoke, and ash was everywhere.
His neighbor told him the vineyards across the street were on fire and houses were burning, and he needed to pack his things and leave immediately.
"It took me a minute to process what she told me and what was going on, not understanding the severity of the situation," he said. "I quickly threw my clothes, a blanket, and small valuables in my car. At that point, I thought about a coworker, who lived at the end of my street. I drove to his house to figure out his plan because I was even considering staying back to protect the house with another one of my neighbors. He was considering the same thing."
He added: "I only made it a block before getting stuck in total gridlock, everyone in the neighborhood was evacuating.
"People started panicking and proceeded to drive on the sidewalks as well as opposing traffic…. The neighborhood was in flames. That's when I knew my house was gone."
At least 15 people have died as a result of wildfires across the state, authorities said Tuesday.
In the Santa Rosa area, 27,000 acres have burned. All Sonoma County public schools are closed today and officials say 24 evacuation centers are open to the public.
Thousands of residents were displaced by the fires, according to Santa Rosa Mayor Chris Coursey.
"I'm lucky. My house is fine, my family is fine, but my city is not," Santa Rosa Mayor Chris Coursey said at a press conference Monday. "It's going to take a long time for us to recover."
Patients at the Kaiser Permanente and Sutter Santa Rosa Regional hospitals in Santa Rosa were forced to evacuate early Monday as flames tore through surrounding neighborhoods.
Santa Rosa homeowner John Graves said he was mourning after most of his neighborhood was leveled.
"I've been here 25 years. It was a great neighborhood," Graves told ABC's San Francisco station KGO on Monday. "It's gonna be a lot of work getting it back."
Kim Hoe, a 33-year-old tech worker visiting from Penang, Malaysia, said he was staying at the Hilton Sonoma Wine Country in Santa Rosa, which was destroyed by flames.
He said he and his colleagues began to pack up Monday morning when someone knocked on the hotel door and told them to run.
"We just had to run and run. It was full of smoke. We could barely breathe," Hoe told KGO.
ABC News' Quinn Owen contributed to this report.