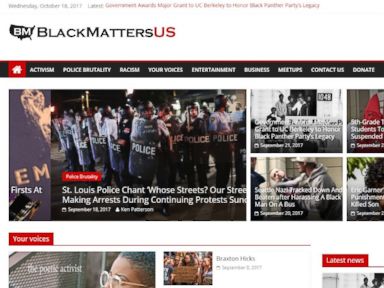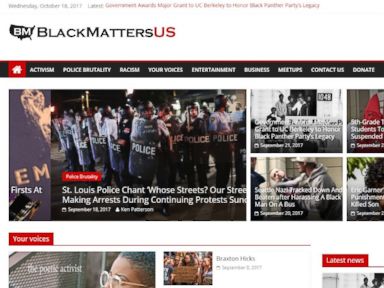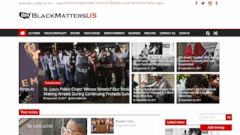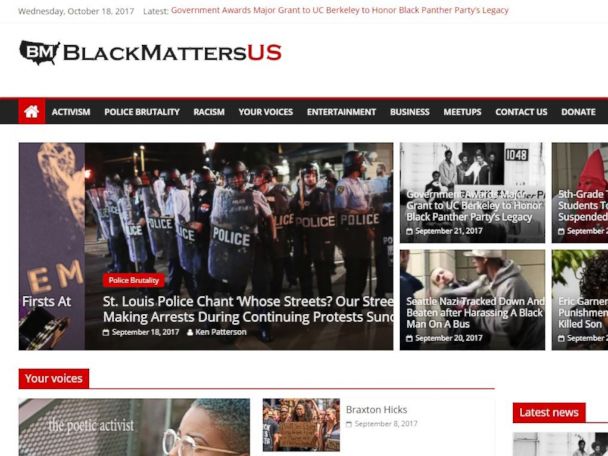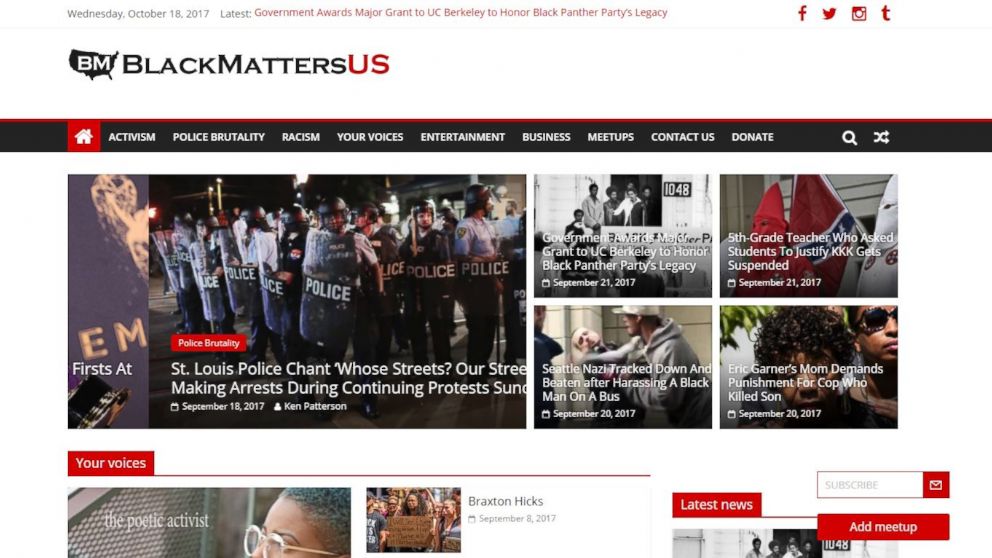 From their desks in St. Petersburg, Russian internet trolls at a company with ties to Russian President Vladimir Putin sought to co-opt American civil rights activists and use them to stoke racial tensions and stir political unrest, authorities said.
Congressional investigators tell ABC News that two online groups — BlackMattersUS and BlackFist — were among those used by Russian operators to reach out directly to unwitting individual Americans engaged in political activism and, in this case, encourage them to help organize rallies, train in self-defense and create music videos. In some cases, those activists even received financial support.
This effort, according to authorities, was the brainchild of the Internet Research Agency, the same St. Petersburg-based company identified by members of Congress as a key arm of the larger Russian operation aimed at influencing U.S. elections. That effort, as first reported by the the Russian publication RBC, now appears to be much broader than previously known, moving beyond the virtual world.
The Facebook and Twitter accounts associated with both groups have since been suspended, and ABC News could not reach any of the people identified online as being members of either group. Executives from both social media giants are expected to appear before Congress early next month to discuss steps they are taking to confront Russian efforts to infiltrate their platform, the scope of which is still not fully understood.
"The strategy appears to be a mix of suppressing votes, stoking fear and doing all they can to help their preferred candidate in Donald Trump and tear down Hillary Clinton," said Rep. Eric Swalwell, a California Democrat on the House Intelligence Committee who has seen Russian social media posts turned over to Congress by Facebook and Twitter.
By piggybacking on the themes of the Black Lives Matter movement, Russian agitators succeeded in convincing people interested in those same social justice causes that this stealthy foreign-backed effort was legitimate.
Ronnie Houston, a hip-hop artist in St. Louis, Missouri, who goes by the name Rough the Ruler, told ABC News that someone claiming to be from BlackMattersUS contacted him on the Facebook-owned photo-sharing platform Instagram in March of 2016 and asked him to record a song for them "about the social issues that were going on." He wrote and performed the music for a short music video featuring video clips from marches, graphics touting the BlackMattersUS website, and lyrics describing police as "assassins" and protesters as "avengers."
If he had known the group was not rooted in the Black Lives Matter movement, he said, he would not have agreed to record the song.
"No man I wouldn't have done it," he said. "Wouldn't have done it at all."
Conrad James, an activist in Raleigh, North Carolina, says he was approached in September 2016 by a woman who claimed to represent BlackMattersUS and asked him to speak at a rally they were hosting in Charlotte. James said more than 600 people turned up.
"They definitely were trying to stir-up trouble," James said of BlackMattersUS. "Their intent was obviously to have some type of emotionally filled rally where people are adding fuel to the fire that was already happening around Charlotte."
Nolan Hack, an activist from Los Angeles, said BlackMattersUS asked for his help organizing civil rights rallies last year and he was reimbursed for some of his travel expenses.
He said the notion of a Russia connection "never entered my mind."
The effort was not limited to BlackMattersUS and BlackFist. Federal officials and Facebook executives confirmed to ABC News, first reported by The Daily Beast, that the troll farm was also behind a purported pair of bloggers – William and Kalvin – who produced social media posts and YouTube videos that carried more pointed political messages
"We, the black people, we stand in one unity" said one post from duo, who claimed to be from Atlanta. "We stand in one to say that Hillary Clinton is not our candidate."
And the effort doesn't appear to have stopped after the election. At least five American trainers paid this year by a group called BlackFist to offer free self-defense classes around the country, urging people to "be ready to protect your rights" and to "let them know that Black Power Matters."
Omowale Adewale, a fitness trainer in Brooklyn, New York, says he was paid $320 via PayPal to conduct four classes in a month.
"It's very sneaky," Adewale told ABC News. "It's very underhanded."
Roger McNamee, a venture capitalist and early investor in Facebook, says this effort is evidence of the Russian strategy "to anger both sides of the equation."
"Classic Russian intelligence techniques of taking the most extreme voices and amplifying them," he said. "It was the perfect petri dish for this kind of campaign."
Swalwell said he wants Congress to find a way to address this type of interference without infringing on peoples' rights.
"Russia was able to use our greatest strength, freedom of speech, and turn it into a weakness," Swalwell said. "I think we have to find what is that fine line between making sure my mom can post any political opinion that she wants but an organized intelligence service of a foreign country isn't able to weaponize social media."
ABC News' Rhonda Schwartz, Patrick Reevell and Brian Epstein contributed to this report.