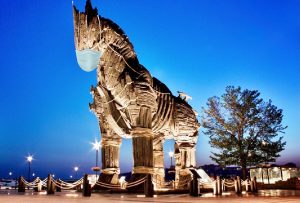 As a child I enjoyed reading and loved all kinds of subjects and styles.
Biographies, Louis L'Amour Westerns, selective Science Fiction, etc..
Historical pieces were also a favorite and reading the translation of Homer's Iliad and the Odyssey was a joy repeated many times.
Helen's Face to Achilles Heel to eventually a Trojan Horse, the Greek poet captured life and death.
Today's world equates Homer with a dumpy cartoon character and because of this lack of knowledge will continue to repeat the sins of the past that should no longer be a part of an evolving species.
The concept of the "common good" has surrounded the only bastion of Freedom to have ever occurred on planet Earth.
The dogma that many must suffer so a few can flourish is not a new extraction, rather it is the view that makes up the majority of the nations currently in existence.
Adam's Smith proclamation that the Individual does indeed exist and nations are better when the Individual is free to pursue their own dreams, to benefit from their own toil, has been crushed by two things.
Power and Apathy.
It is the insatiable desire for power of the few, who continue to harm the many, coupled with the apathy of the many to do nothing but lick the boots of the few, that is causing the breakdown of the greatest nation ever.
Too many are unwilling to stand and instead gather when their Pavlovian bell is rung to line up six feet apart and snarl over toilet paper; the government block cheese and peanut butter of the past.
Cover your face!
You're selfish if you don't!
Follow the red arrows!
Get back in your house or we will arrest you!
Shut up, sit down and wait for your vaccination!
Apologize or go to jail!
That's right, line up and do as you are told!
California CHP decided to follow the unlawful command of the Governor and push/tackle citizens exercising their 1st Amendment Right to speak freely to government.
Michigan citizens decided to ensure their 1st Amendment Rights were not violated by practicing their 2nd Amendment authority.
Amazingly no one BEARING ARMS was pushed or tackled but a self-proclaimed dishwasher named Hannity was triggered into showing his yellow streak . . . again.
Some Republicans still awaiting Q are now counting on the Swamp Duo of Barr/Durham to do something . . . anything.
Their wait will not be rewarded.
Finally, President Trump seems to be the only one anywhere in elected office to actually speak the truth when he said many in the Obama Administration committed treason.
He is in fact correct and his statement is easily provable via John Kerry's own words.
Sadly aforementioned Barr has already dismissed his boss and will continue to cover the corruption in Washington D. C.
We support you President Trump.
It's too bad neither of your Attorneys General have.
Still, to be fair our system calls for the accused to be able to face their accuser.
I, Jason Kraus, accuse Barack Obama of Treason when he supplied Iran with "helicopter dropped cash" which was then dispersed to Hamas and Hezbollah who then committed Acts of War against the United States and murdered American military members.
Come face me Barry.
I'll snap your neck like a Number Two pencil.
We have lost patience President Trump and are quickly running out of time.
With a flick of the wrist the powers-that-be have shut down the greatest economy in the history of Man.
Stealing a Presidential election is well within their grasp.
Jason Kraus
www.aleadernotapolitician.com
www.freeamericanetwork.com