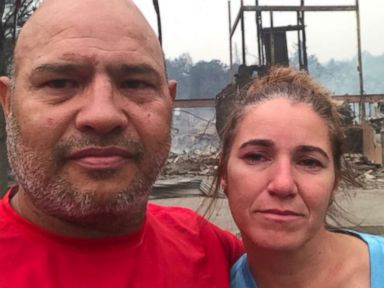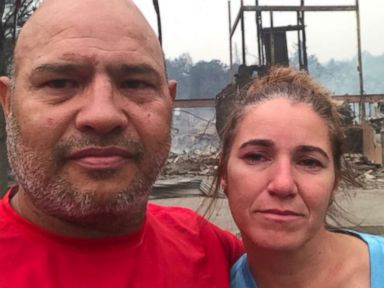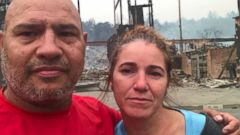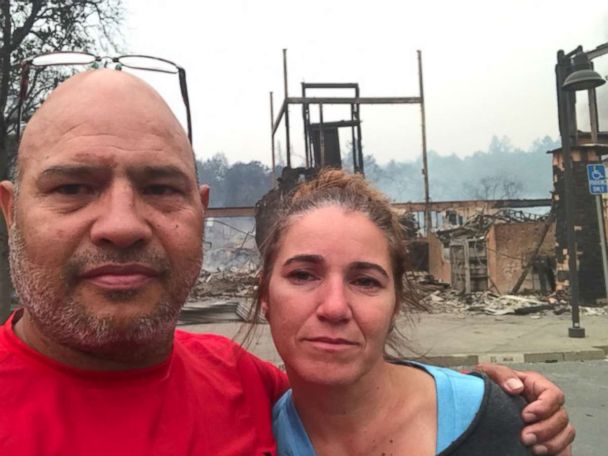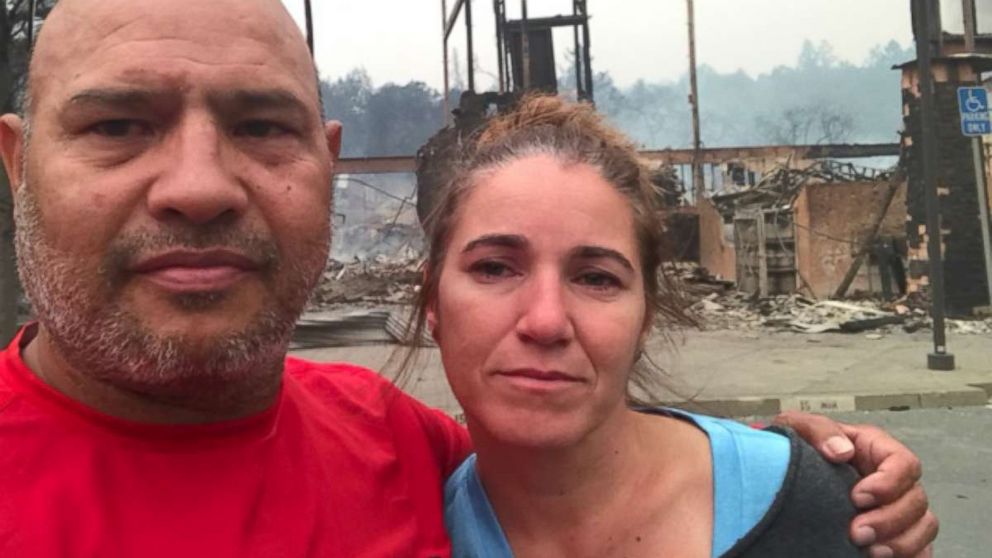 A Santa Rosa, California, man said he doesn't know what he'll do next now that the home where he and his family lived has burned to the ground, leaving them without anything except the clothes on their backs.
Carlos Funez, who is a teacher, and his wife, a vice principal, had already put their three children, ages 11, 7 and 4, to bed Sunday when the power first went out around 11 p.m.
The couple heard strong winds and what sounded like falling trees, he said, and the power began to flash on and off.
In the middle of the night, they heard people knocking on doors and yelling; Funez said he first assumed that police were chasing a criminal. When the pounding started on his door, he said he looked through the window and saw an ambulance, fire trucks and police cars, as well as neighbors outside in pajamas.
Funez opened the door.
"They started yelling at us, 'Get out, get out, you need to get out,'" he told ABC News. "I said, 'What's going on?' [They responded,] 'There's a fire back there.'"
"We looked over the hill and all you can see is orange," he said. "Once we opened the door, you can smell the smoke."
So at 2 a.m., the family hurried into the car and left to stay at a friend's house.
But by Monday afternoon, Funez and his wife were desperate to see the fate of their home.
"We had to see it," he said. "We left the kids safe at a friend's home and hiked with my wife and a neighbor 30 minutes through the burned neighborhood."
They walked like zombies, he said, with the firemen just looking at them and nodding.
"Once we got to our neighborhood I said to my wife, 'Just prepare for it,'" he recalled.
"The whole neighborhood is just … burned down," he said, comparing it to a "war zone."
Funez said it seemed "like a bomb went off."
At his own home, he said nothing was left.
"The only thing you see standing was the walls of the bathroom," Funez said. "Everything else is burned to the ground."
Nearly all of the family's possessions were destroyed. His wife had left behind her purse, with her wedding ring inside. All of the kids' belongings were gone, except his oldest daughter's teddy bear and blanket that she brought in the car with her.
Now, just a few days out, Funez said "it's hard to know what to start with" as they pick up the pieces.
The kids are "going through all the stages: first, shock," he said. "One is sad right now, the other two are angry." He said he himself went through shock, denial and anger.
The family doesn't have renters insurance, Funez said, and hopes they can register with FEMA. Friends are sending clothes.
"It's going to be hard. We don't know where to start," he said. "I just have a pair of shorts and two t-shirts."
But in the midst of all of the loss, Funez is still grateful. The family had moved to California from Texas last year.
"We found that people here in California, they have a great heart," he said. "We found support from families and friends … we're very fortunate to be here in northern California."
Santa Rosa is among the hardest hit areas in the devastating California wildfires. Firefighters across the area are battling 21 large wildfires that have burned more than 190,000 acres and killed at least 26 people; more than half of the deaths are in Sonoma County, where Santa Rosa is located.