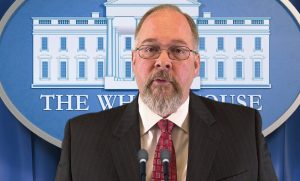 by Daveda Gruber:
The end of U.S. Attorney John Durham's investigation will not be coming in March as sources were alleging. In fact, there won't be a report at all.
Now it is being reported that the investigation into the origins of the Russia probe by the U.S. attorney for Connecticut will not be finished until the end of the summer.
The delay is alleged to be at least partly because of coronavirus pandemic that is affecting America and the rest of the world.
During a House Rules Committee meeting that was focused on reform of the Foreign Intelligence Surveillance Act last week, Representative Jim Jordan, who is a Republican from Ohio, was reported to have conveyed the same timeline.
The Washington Examiner reported that in reference to Durham's investigation that Jordan explained, "His investigation is due to be completed sometime this summer."
In 2008, Durham was appointed by Attorney General Michael Mukasey to investigate the destruction of CIA videotapes of detainee interrogations. On November 8, 2010, Durham closed the investigation without recommending any criminal charges be filed.
Last year Attorney General William Barr appointed Durham to review the events leading up to the 2016 presidential election and through President Trump's January 20, 2017 inauguration.
It has been reported that Durham has since expanded his investigation to cover a post-election timeline spanning the spring of 2017. That is when Robert Mueller was appointed as special counsel.
Representative Doug Collins, the Republican from Georgia, served as the top Republican on the House Judiciary Committee. He left the role after announcing a Senate campaign. It was reported to have said that Durham's probe will likely lead to criminal charges.
It was reported by FOX News that Collins said, "This is not going to be a Mueller report; there won't be a report."
Collins went on to say "When he's ready to charge people, he'll charge people. And that's when we'll know."
It has also been reported that Collins explained that Barr had expanded Durham's reach into the intelligence community.
He added that he has "grand juries" and "everything else" at his disposal.
CIA officials and other officials in the intelligence community were investigated by Durham and former CIA Director John Brennan has made it clear that Durham plans to interview him and former Director of National Intelligence James Clapper.
Those interviews have not taken place according to alleged reports.
It is alleged that a handful of House Democrats are asking that Durham step aside according to Congressman Andy Biggs the Republican from Arizona who is on the House Judiciary Committee.
Nothing in life is guaranteed but I was looking forward to a report by Durham. Now it appears that no report is coming and that government officials will know what Durham finds when indictments begin and the investigation is officially declared over.
So, toilet paper isn't the only paper I may or may not have in the summer. I won't have a report to read and I was looking forward to that.
More and more conspiracy theories are creeping into my head and building up because Durham's investigation has been slowed down by the coronavirus.
Does this little bit of information get you thinking? It should if you are inquisitive like I am. It will be a long summer.