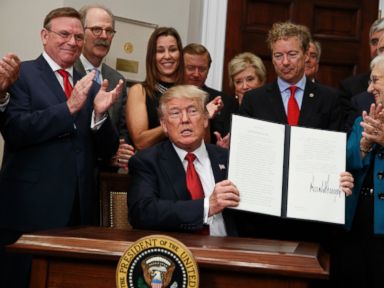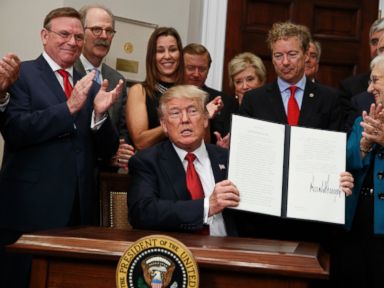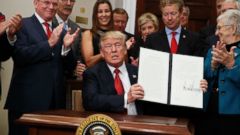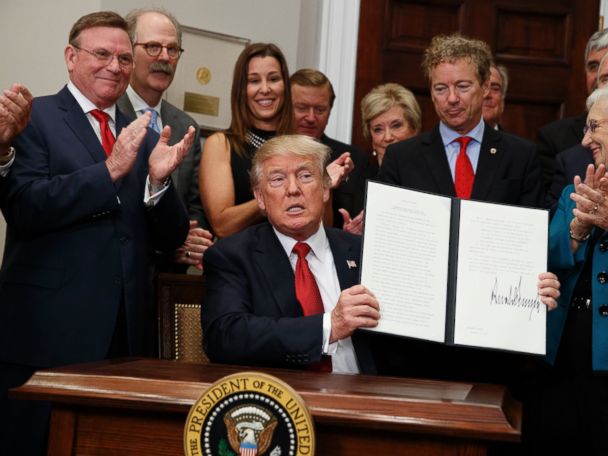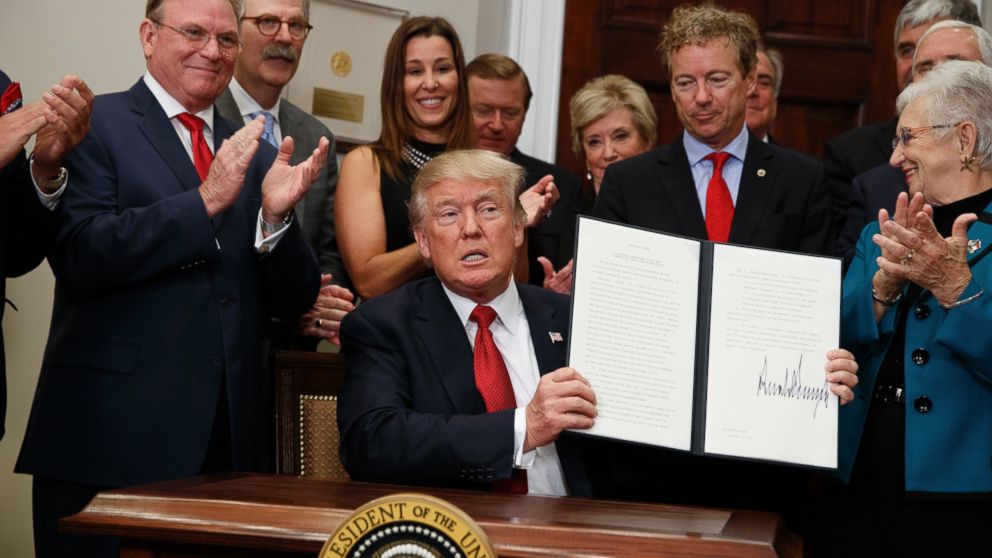 The White House announced Thursday night that the administration will slash Obamacare subsidy payments to insurers.
The "cost-sharing reduction payments," worth an estimated $7 billion this year, are intended to reduce out-of-pocket costs for low-income Americans on Obamacare.
These subsidies are paid out in monthly installments and cutting them will likely further roil the already unstable insurance market. The nonpartisan Congressional Budget Office (CBO) has determined such a move would immediately bump up the number of uninsured people.
Health and Human Services says the payments will be discontinued immediately.
Trump tweeted about the situation on Friday morning, saying Obamacare was "imploding."
White House Press Secretary Sarah Sanders said in a written statement that the Departments of Justice and Health and Human Services concluded that it would be unlawful to continue the payments, because there are no appropriations. Both Attorney General Jeff Sessions and Acting Health and Human Services Secretary Eric Hargan released statements to that effect — saying the payments overstepped legal bounds because Congress is responsible for appropriating money.
"The Government cannot lawfully make the cost-sharing reduction payments," Sanders said. "The United States House of Representatives sued the previous administration in Federal court for making these payments without such an appropriation, and the court agreed that the payments were not lawful."
House Speaker Paul Ryan, R-Wisc., reiterated Sanders' point in a late-night statement on Thursday.
"Under our Constitution, the power of the purse belongs to Congress, not the executive branch," Ryan said. "Today's decision by the Trump administration to end the appeal of that ruling preserves a monumental affirmation of Congress's authority and the separation of powers. Obamacare has proven itself to be a fatally flawed law, and the House will continue to work with Trump administration to provide the American people a better system."
The president has threatened for months on cutting these payments, with many insurers already planning for this possibility. Lawmakers have also been anticipating the action. One bipartisan group has been working to find a solution to preserve these payments and shore up the markets. The pressure will now grow on them to act.
Democratic Congressional leaders were quick to react to a Politico news report Thursday night that the Trump administration was expected to announce that it would cease the subsidy payments.
House Democratic leader Nancy Pelosi and Senate Democratic leader Chuck Schumer issued a joint calling the action "pointless sabotage."
"Sadly, instead of working to lower health costs for Americans, it seems President Trump will singlehandedly hike Americans' health premiums," they said in a joint statement. "It is a spiteful act of vast, pointless sabotage leveled at working families and the middle class in every corner of America."
The move by the White House comes after the president on Thursday signed an executive order directing his administration to look into increasing access to Association Health Plans and short-term limited duration insurance. The president says the plans have the potential to make health insurance more affordable, but critics argue that the plans would not cover basic health benefits, like maternity care and prescription drugs.
Former Barack Obama administration official Austan Goolsbee defended his former boss's plan in an interview on MSNBC late Thursday.
"This is crazy town," the former chair for Obama's Council of Economic Advisers said. "This is a decision that is opposed by every major medical organization, the doctors, the nurses, the hospitals, the insurance companies, the consumer groups and every other leading expert group has opposed this decision."