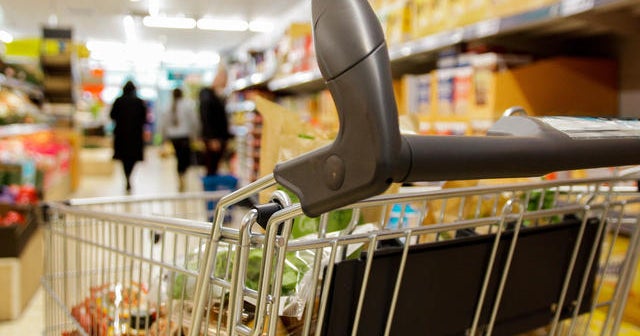 Inflation around the U.S. rose at an annual rate of 6% rate in February, cooling from the prior month yet posing a dilemma for the Federal Reserve as it copes with the double whammy of stubbornly high inflation and instability in the banking sector.
The report matched economists' forecasts that the Consumer Price Index, a broad basket of good and services, increased 6% last month, according to financial data company FactSet. On a monthly basis, prices rose 0.4% in February compared with January, the Labor Department said on Tuesday.
February's inflation reflected "the smallest 12-month increase since the period ending September 2021," the CPI report noted. In January, inflation rose at a 6.4% annual rate.
Before the abrupt collapse of Silicon Valley Bank on Friday, Fed officials were widely expected to lift their benchmark rate when they meet March 21-22. But banking industry turmoil after state regulators seized SVB and New York's Signature Bank has since thrown the central bank's calculus into doubt.
That may pose a quandary for the Fed: whether to continue boosting interest rates in its ongoing effort to tame inflation, or ease up due to the pressure from higher rates on the banking industry.
The inflation data "adds to the evidence that inflation remains stubbornly high, but the ongoing fallout from the [Silicon Valley Bank] crisis over the coming days is still likely to have a bigger bearing on what happens at next week's [Federal Open Market Committee] meeting," said Andrew Hunter, deputy chief U.S. economist in a research note.
The latest inflation numbers suggests the Fed will increase rates by one-quarter of a percentage point next week, predicted Rubeela Farooqi, chief U.S. economist at High Frequency Economics, in a report.
"However, the decision ultimately will depend not only on the economic data but also financial stability concerns, which could keep the Fed on the sidelines next week," Farooqui added.
Core inflation, or consumer prices excluding gas and food, rose 5.5% at an annual rate last month and at an 0.5% increase on a monthly basis.
"Inflation-busting behaviors"
Housing was the largest contributor to inflation last month, accounting for more than 70% of the increase, the Labor Department said. Prices for food, recreation and household furnishings also rose.
Despite cooler inflation last month, inflation remains sharply elevated over the past two years, with prices 14.4% higher than in 2021, noted Neil Saunders, managing director of GlobalData. As a result, consumers are juggling higher expenses and are cutting back on some purchases to cope, he said in a report
Yet some essential products are difficult to trim, such as heating costs and food. That "means the squeeze on discretionary budgets continues," Saunders said. "This is one of the reasons why households are still exhibiting inflation-busting behaviors, including reducing the volume of non-essential products they buy and trading down to cheaper brands."
Customers are cutting back on discretionary purchases, putting pressure on retailers and other businesses, he added, while consumers are racking up credit card debt because their budgets aren't keeping up with inflation.
Sanders noted, "In short, inflation is not an enemy that consumers can withstand indefinitely."