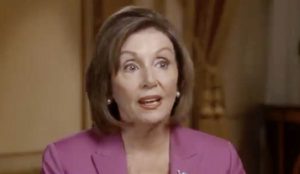 by Daveda Gruber:
Speaker of the House Nancy Pelosi D-Calif., said words pertaining to the whistleblower that sounded like a threat to President Trump.
The whistleblower was the person who generated the whole impeachment inquiry by the House Intelligence Committee.
Pelosi did an interview on CBS' "Face The Nation" and during the interview she relayed a message to Trump when she said Trump was in her "wheelhouse" if he made an effort to go after the anonymous source who is known as the whistleblower.
Pelosi said, "I told the president you're in my wheelhouse when you come after the whistleblower."
What does the phrase in your wheelhouse mean? Well, here's the definition.
If something is in your wheelhouse, it's well within your area of expertise. So "in someone's wheelhouse" refers to something being within one's areas of competency and control.
Pelosi must believe she's in control of Trump. That comes as news to me.
The speaker believes that it of the utmost importance to protect the whistleblower's identity.
Pelosi also said, "This is really important, especially when it comes to intelligence, that someone who would be courageous enough to point out truth to power and then through the filter of a Trump-appointed inspector general who found it of urgent concern and then took it to the next steps."
Does Pelosi know that even I know who the whistleblower is? Apparently not or she's just blowing air about keeping Eric Ciaramella's name hidden.
No, Pelosi didn't say his name; I did.
Pelosi then added that if Trump wanted to present his case, he should come before House lawmakers.
She said, "The president could come right before the committee and talk, speak all the truth that he wants if he wants. He has every opportunity to present his case."
I wonder if Trump actually heard what Pelosi said? Maybe Trump should read my article? That would be awesome.