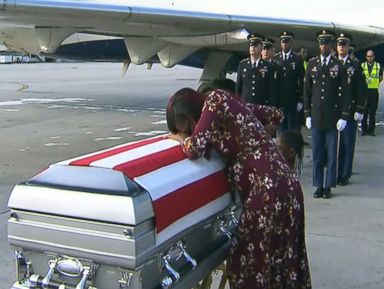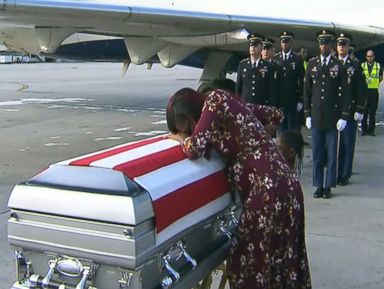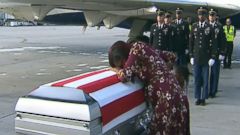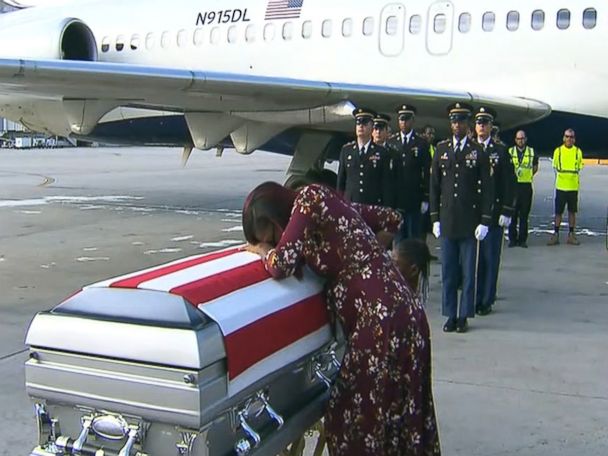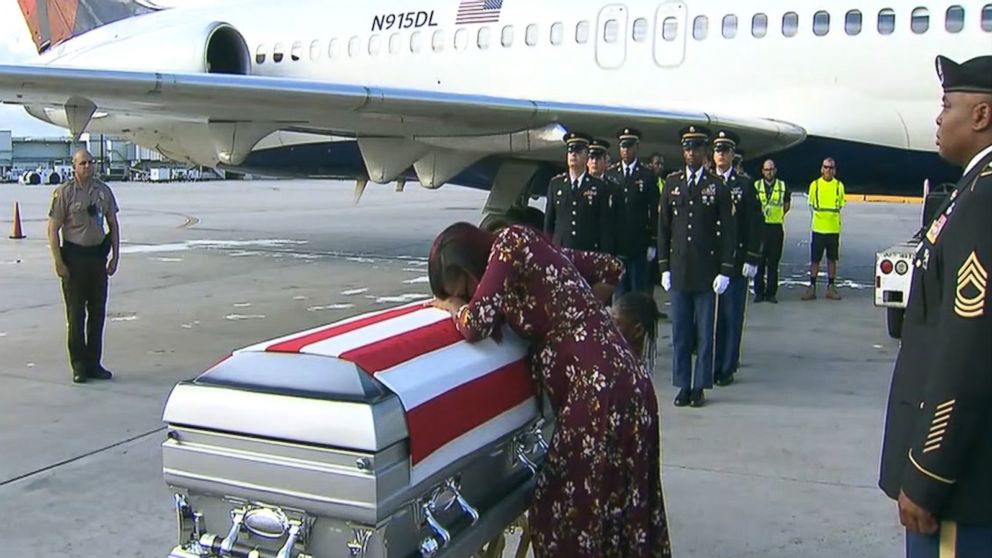 President Donald Trump today denied telling the widow of a fallen U.S. soldier "he knew what he signed up for" in a phone call he made Tuesday, contradicting a Florida congresswoman who said she was with the woman at the time.
Rep. Frederica Wilson said she was with Myeshia Johnson in a car headed to Miami International Airport Tuesday afternoon to meet the body of Johnson's late husband, Army Sgt. La David T. Johnson, who died in Africa this month, when the president called.
In an interview with CNN Tuesday night, the Democratic congresswoman said of Trump's comment about Sgt. Johnson: "Basically, he said, 'Well, I guess he knew what he signed up for. But I guess it still hurt.' That's what he said."
Wilson said she heard part of the conversation on speakerphone.
But Trump tweeted this morning, "Democrat Congresswoman totally fabricated what I said to the wife of a soldier who died in action (and I have proof)."
The White House has not responded to ABC News' request for clarification on Trump's "proof."
Rep. Wilson responded today to Trump's tweet, calling him a "sick man" and saying she has her own proof.
"I'm not trying to prove anything with the president," Wilson said in an interview with CNN this morning. "So the president evidently is lying.
"Because what I said is true. I have no reason to lie on the president of the United States. With a dead soldier in my community. I have no time. I have no motive."
When asked by ABC Miami affiliate WPLG-TV whether she was sure about what she heard Trump say, Wilson responded, "Yeah, he said that. To me that is something that you can say in a conversation, but you shouldn't say that to a grieving widow. And everyone knows when you go to war, you could possibly not come back alive. But you don't remind a grieving widow of that. That's so insensitive."
La David Johnson died earlier this month in Niger when he was ambushed by militants believed to be linked to ISIS. His pregnant widow broke down in tears hugging his casket Tuesday as it was unloaded from the airplane.
Wilson told WPLG, "Now I didn't hear the entire conversation, but when I tried to find out what the entire conversation was, she said I just can't remember everything that he said. But that stood out in everyone's, uh heart, on the call. You don't say that. He is the president of the United States."
"This is a soldier who gave his life for his country. He is a hero in our minds, in our communities' minds, that is an insult to the entire Miami Gardens community, to our entire District 24, to Miami-Dade County, and to this nation. And I hope he did not say that to the other 3 families that he called," she added.
The full context of the president's comment as described by Wilson is not known.
And the White House has declined to comment on the remarks that are being attributed to Trump.
"The president's conversations with the families of American heroes who have made the ultimate sacrifice are private," a White House official told ABC News Tuesday night.
The controversy comes just a day after Trump criticized former President Obama for not always reaching out to the family of fallen soldiers. Trump was asked why he hadn't reached out to the families of victims of the Niger attack, and he responded by criticizing former presidents.
"If you look at President [Barack] Obama and other presidents, most of them didn't make calls. A lot of them didn't make calls. I like to call when it's appropriate, when I think I am able to do it," Trump said on Monday. "They have made the ultimate sacrifice. So generally I would say that I like to call. I'm going to be calling them. I want a little time to pass. I'm going to be calling them."
Trump made calls to family members of all four killed servicemen on Tuesday.
In her interview with CNN Tuesday, Wilson elaborated on her reaction, saying she wanted to confront the president.
"I asked them to give me the phone because I wanted to speak with him," she said. "And I was going to curse him out. That was my reaction at that time. I was livid. But they would not give me the phone."
As for Johnson's reaction, Rep. Wilson told MSNBC told, "She was crying the whole time and when she hung up the phone she looked at me and said, 'He didn't even remember his name.'"
Wilson said she was not politicizing anything by sharing what she heard from the phone call.
"He died as a sergeant. He died as a hero," Wilson said.
She added, "And Mr. Trump was extremely insensitive to that family and I will stick by that. I'm not trying to politicize it, but I think it was a disgrace."
Johnson was one of four soldiers killed in Niger when a joint patrol of U.S. and Nigerien forces was ambushed Oct. 4 by militants believed linked to ISIS. He was serving with a Green Beret unit as part of its support team.
Johnson enlisted in the Army in January 2014 as a wheeled-vehicle mechanic and was assigned to the 3rd Special Forces Group, a Green Beret unit based at Fort Bragg, North Carolina. The military says his body was found Friday after an extensive search; his body was initially listed as missing.
The bodies of the three other U.S. troops were recovered shortly after the attack, which also killed four Niger military members. The U.S. and Niger forces were leaving a meeting with tribal leaders when they were ambushed.
Johnson, mother to the couple's 2-year-old son and 6-year-old daughter, is expecting their third child in January.
A GoFundMe account set up to pay for education costs for the couple's three children skyrocketed on Tuesday evening. The campaign, which was set up on Tuesday, met its goal of $100,000 and kept climbing to over $146,000 by 3 a.m. on Wednesday. Over 3,100 people had donated to the fund early Wednesday. TV producer Bill Prady donated $5,000 to the campaign and offered to match donors for another $5,000.