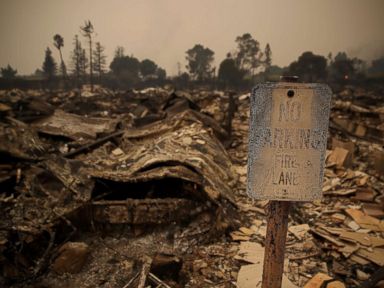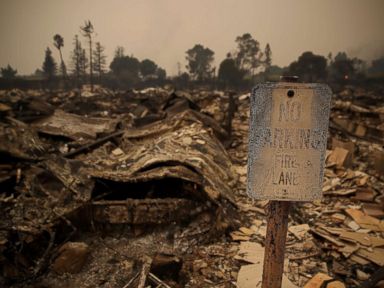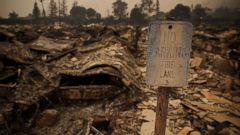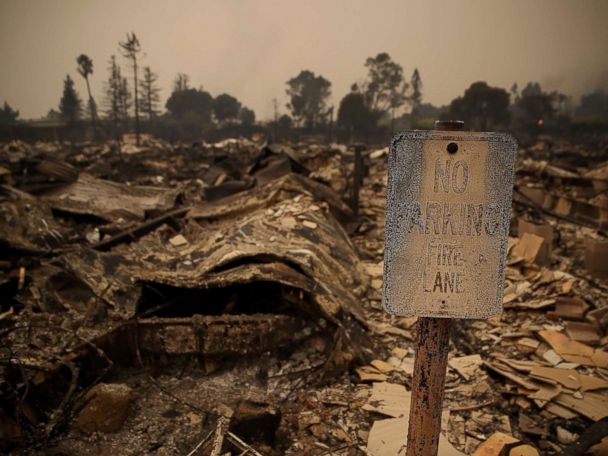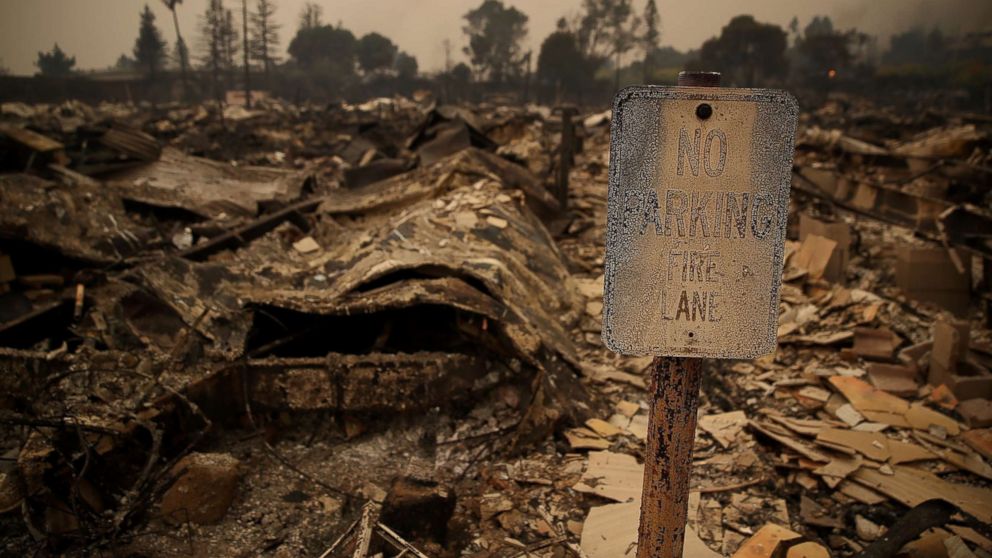 Massive wildfires sweeping through parts of California have killed at least 17 people and damaged more than 2,000 residences and other buildings, according to authorities.
Firefighters were battling dozens of fires across multiple counties in the state as of Tuesday, authorities said. Intensified by strong winds, the fires charred over 115,000 acres of land, destroyed at least 2,000 buildings and forced nearly 20,000 residents to evacuate.
St. Joseph Health said about 170 patients have been treated, many for burns and smoke inhalation, at three of its hospitals, including two in Sonoma County, where at least 11 people died of fire-related injuries. Authorities have 183 unresolved missing person reports, according to one Sonoma County official.
Sonoma County Sgt. Spencer Crum told ABC News chief anchor George Stephanopoulos Tuesday on "GMA" that the county has asked everyone to "help us out" in the battle against the blazes.
The shifting gusts that dogged firefighters have eased, he added.
"The night before this, we had 60 mph winds, which is the reason why you have such devastation here," Crum said.
He confirmed that the alert system put in place gave residents ample time to evacuate and likely prevented many deaths.
"We have a subscription service where we can alert our residents, and we did that right away, trying to notify everybody where the fire was, where it was going and how fast it was going, and I think it saved a lot of lives," Crum said.
Officials with the California Highway Patrol described one of the dead as an elderly woman who was blind and hard of hearing, according to ABC's San Francisco station, KGO. The woman was found dead in the driveway of her home in Santa Rosa, according to the officials, who suspected that she was trying to escape the flames when she died.
Details on the other victims have not been released yet.
Two of the largest fires, dubbed the Tubbs and Atlas fires by authorities, burned a combined 52,000 acres of land in Sonoma and Napa counties.
In Anaheim, 1,000 firefighters were mobilized to fight a blaze that burned an estimated 6,000 acres and destroyed at least 24 homes and businesses. At least 3,000 residents were evacuated in and around Anaheim, and more than 5,000 structures were threatened by the flames.
California Gov. Jerry Brown has declared a state of emergency for Napa, Sonoma and Yuba counties.
With the flames sweeping through communities, some area hospitals have been evacuated. Evacuations were also issued for surrounding counties that are under threat, according to the Napa Valley Sheriff's Office.
Many residents have been warned not to return to their homes until further notice.
Jeff Okrepkie, a resident of Santa Rosa, said he fled his home of five years knowing that it could very well be leveled when he returned.
"All that good stuff, I'm never going to see it again," he told KGO on Monday.
He said he and his wife tried their best to gather their most precious documents, photos and mementos, but it was impossible to grab everything in time.
Mike Turpen, 38, said he was at a bar in the Glen Ellen area of Sonoma County when someone stormed in wearing a smoke mask and yelled, "Fire!" He said he drove through flames in his pickup truck with hopes of saving his home.
"It was like Armageddon was on," Turpen told KGO. "Every branch of every tree was on fire."
He said that his yard was scorched and still flaming in some spots but that he managed to keep his home from burning down.
The causes of the fires are unknown.
As firefighters continue to try snuffing the flames that have devastated thousands of acres, the Sonoma County Sheriff's Office said there had been about 240 missing person reports, but 57 had been found safe as of Tuesday afternoon.
Crum conceded that it could take a long time for communities to bounce back.
"We have a lot of rebuilding here," Crum said.
ABC News' M.L. Nestel, Rex Sakamoto and Marilyn Heck contributed to this report.