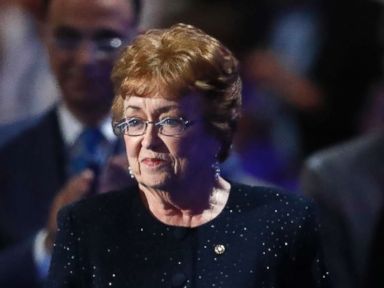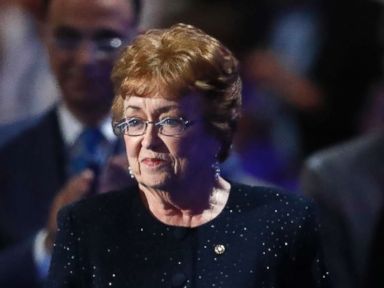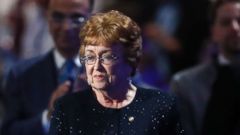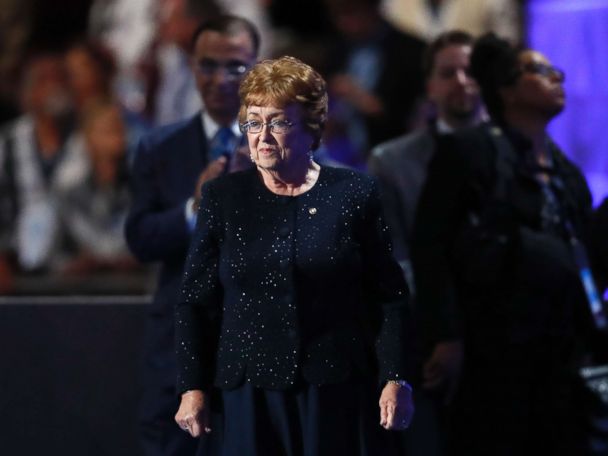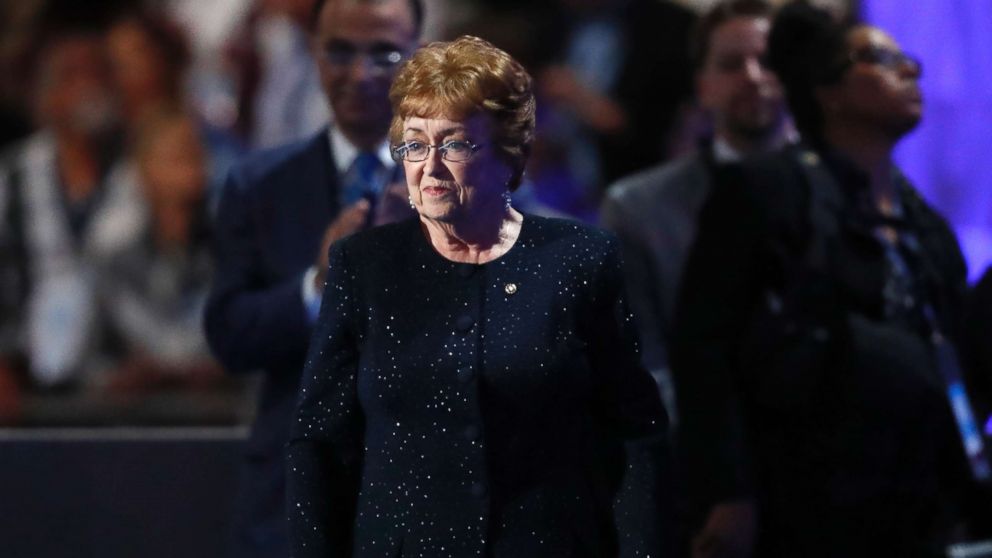 As President Donald Trump faces criticism over his comments to the widow of Sgt. La David Johnson, the families of the fallen say their conversations with past American presidents attempting to offer condolences sometimes drew their grief into sharp relief.
Trump called Myeshia Johnson Tuesday in an effort to console her. According to Rep. Frederica Wilson, D-Fla., Trump told the widow that her husband, who died in an Oct. 4 ambush in Niger, "knew what he signed up for … but I guess it still hurt."
Trump denied making those comments.
Trump also claimed Monday that his predecessors often failed to call families of the deceased. "President Obama I think probably did sometimes, and maybe sometimes he didn't, I don't know," Trump said. "Other presidents did not call, they'd write letters, and some presidents didn't do anything."
Some families who received presidential condolences in the past told ABC News they found some comfort in those calls.
When he lost his son, Army Sgt. James "Jimmy" J. Regan in 2007, James P. Regan received a phone call from President George W. Bush. The president reportedly met in private with the families of the soldiers killed in action and sent thousands of personal letters during his time in office.
Jimmy had been killed in action Feb. 9, 2007 in northern Iraq of wounds suffered when his vehicle was struck by an explosive.
Over a year later, at the rededication of the U.S.S Intrepid, Bush and first lady Laura Bush spent an hour with the Regan family. The Regans also received a flag from the Bush administration in remembrance of Jimmy.
"To take the effort and time to see where we are coming from really means a lot. I have nothing but great things to say about Bush," said Regan, who also is the chairman and CEO at Lead the Way Fund Inc., a non-profit organization established to raise funds in support of disabled U.S. Army Rangers and the families of Rangers who died in action.
Paul T. Monti received a phone call from President Barack Obama after his son Sgt. 1st Class Jared C. Monti was posthumously approved for the Medal of Honor in 2009.
Jared was killed in 2006 in Nuristan Province, Afghanistan while trying to repeatedly rescue his wounded comrade under enemy fire.
Monti said he will never forget his conversation with Obama.
"He told me that the nation was proud of my son, and he was proud of my son, and that he knew that I was very proud of my son. That I remember distinctly," Monti told ABC News.
Monti also previously received a letter from Bush, who was president when his son was killed.
Like Bush, Obama also sought to comfort and offer condolences to the families in person and through letters.
On Oct. 29, 2009, Obama made an unscheduled trip to Dover Air Force Base to observe a dignified transfer — the first time he had participated in the solemn military tradition. Obama met with the families of the soldiers after he paid his respects to the fallen.
He also attended another dignified transfer in 2011 after 30 Americans, including 22 Navy SEALs, lost their lives when their Chinook helicopter was shot down in Afghanistan. Similarly, he met with the families of the fallen in private for an hour.
Sharon Belkofer, who is the mother of Army Lt. Col. Thomas P. Belkofer, told ABC News that Obama was "unbelievably warm and compassionate" the two times she met him in person. Her son Thomas had served in Fort Drum's 10th Mountain Division when he was killed by a suicide bomb attack in Kabul on May 18, 2010.
The first time she met President Obama was in 2011 at Fort Drum. According to Belkofer, Obama had changed his schedule the day he visited the New York military base and told his staff he wanted to meet with the Gold Star families that were in attendance.
Belkofer and her daughter-in-law were one of the last families to meet with Obama, but when they finally met, Obama embraced her and Belkofer began to cry.
"The first words he said to me was, 'Hi, [and he asked] how was I doing," Belkofer said.
She then lamented to Obama that she thought her son would be embarrassed, "because I'm crying all over your suit."
Obama assured her that her son would not be embarrassed as he held and comforted her.
However, some families eschew presidential efforts to reach out.
Gold Star mother Nadia McCaffrey had a chance to meet President Bush after her son, Sgt. Patrick R. McCaffrey Sr., was killed in 2004, but refused the offer.
"I said 'No — if I am in his presence, I'm going to turn my back on him.' And I would have done it," McCaffrey said.
Patrick enlisted in the National Guard just after 9/11, choosing the Guard because of its domestic focus, according to McCaffrey. She blames Bush for her son being deployed overseas to a war she never supported.
"My son was very patriotic, and so am I," she said. "And, you know, if I could have given my life for him, I would have done it without hesitation — not a moment — but I feel like he was sort of betrayed being a Guard."
Kim Smith of East Peoria, Illinois, told ABC News she's speaking out because she's mad Trump is being called a liar over his claims about other presidents calling families.
Eighteen members of her husband's unit, the 2nd Squadron, 106th Cavalry Regiment, Illinois Army National Guard from Obama's home state of Illinois were killed over the course of a couple of years. Her husband, Army Staff Sgt. Paul G. Smith, was killed in action in Afghanistan on June 19, 2009.
She said she never received a call.
Smith said she received what seemed to be a formal letter from President Obama about a month after her husband's death on July 17. She said the typed letter was not personalized, referred to her as only Mrs. Smith, and seemed to be signed with a machine-generated signature.
"I have a general's handwritten letter and that means more to me than Obama's, so I'm upset that they're calling (Trump) a liar and he's not a liar," Smith said of Trump.
Debra Booth, the mother of Marine 2nd Lt. Joshua Booth who died 11 years ago Wednesday, told ABC News that though she did not receive a call, she mentioned receiving several letters from Bush, Senator Ted Kennedy, Governor Mitt Romney, and members of the Department of Defense.
As a member of the Massachusetts Gold Star families, she visited the White House on several occasions — right before the end of Bush's second term and during the Obama administration to celebrate the holidays.
Joshua Booth's daughter got to put an ornament on the tree in honor of her father.