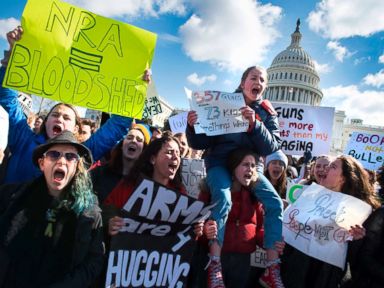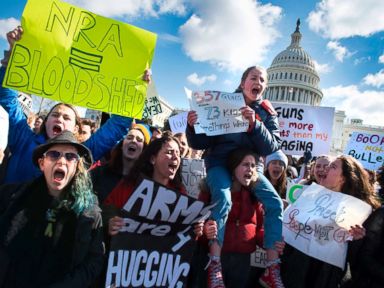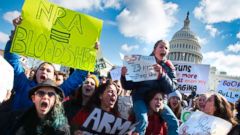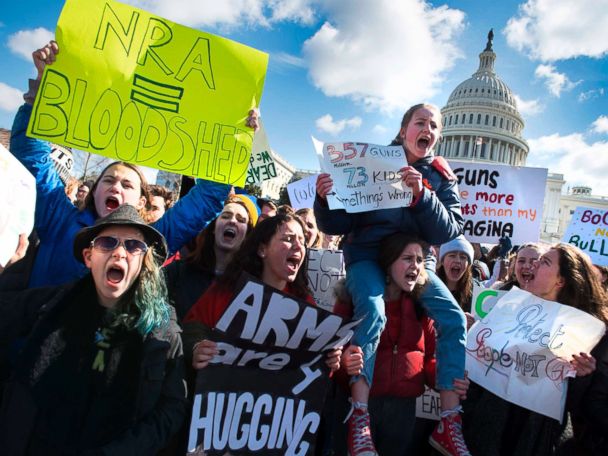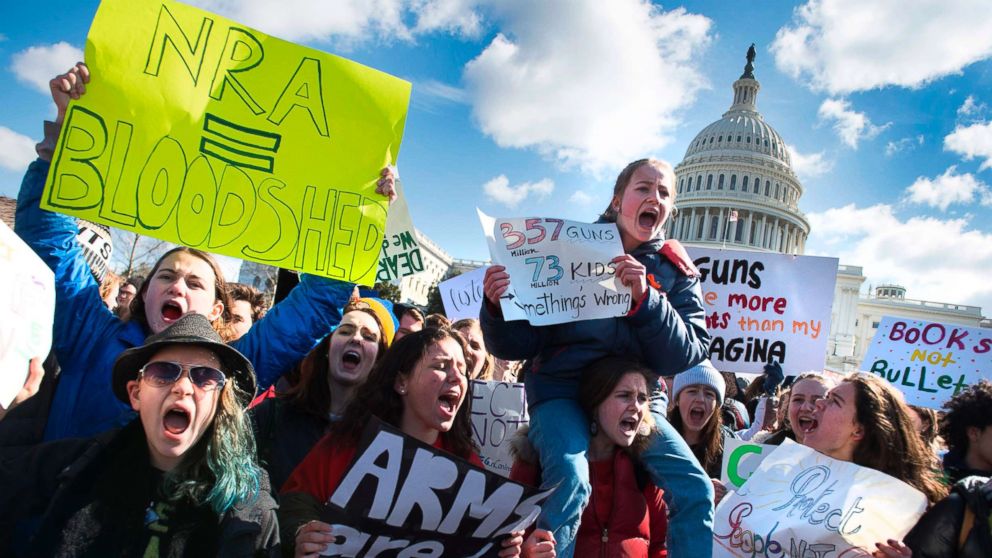 Tens of thousands of young people are set to descend on the nation's capital tomorrow for March for Our Lives, an event organized by the student survivors of the Feb. 14 mass shooting at Marjory Stoneman Douglas High School in Florida that killed 17 people.
The student participants are marching "to demand that their lives and safety become a priority and that we end gun violence and mass shootings in our schools today," according to the event website.
"In the tragic wake of the seventeen lives brutally cut short in Florida, politicians are telling us that now is not the time to talk about guns. March for Our Lives believes the time is now," the event said.
The march extends beyond Washington, D.C.: Over 800 sister marches are registered touching every part of the nation, from Hawaii to Alaska, and from Texas to Maine. Sister marches have even spread throughout the world, from Canada to Iceland, from Spain to Israel, and India to Hong Kong.
"It just shows that the youth are the future," Stoneman Douglas survivor Alex Wind told "Good Morning America" on Monday. "One day we're going to have a president from our generation, and we're trying to make the change before that happens."
"I just think young voices everywhere, they're just as equal as any other voice," another survivor, Ryan Deitsch, added on "GMA." "In this country, we have the freedom to say whatever we want and we have to use that to the best of our ability to be able to spread messages that we have to spread to make the world a better place."
Concerned parents are also participating.
Rebecca Boldrick, the mother of Stoneman Douglas student David Hogg, told ABC News, "As a mother and a teacher I am marching because our schools need to return to being the sanctuaries they should be. I don't want there to be any more senseless mass killings by assault rifles. I want to protect every American in school — and in public."
Celebrities including Oprah Winfrey and Steven Spielberg have donated to March for Our Lives. George and Amal Clooney, who are among the A-listers who donated, also said they will participate in the march, which begins at noon EST Saturday.
Ariana Grande, Demi Lovato, Common, Jennifer Hudson and Vic Mensa will perform at the event.
Since young people are set to flock to D.C. from all over the country, students from one nearby Maryland school organized a home-share network to place hundreds of students in the classmates' families' homes for free.
One of the organizers, 17-year-old Gabrielle Zwi, told ABC News she and her classmates felt inspired by the Stoneman Douglas students, who have been outspoken on social media and lobbied politicians for gun control since the shooting.
"We want to get as many people to the march as possible to show politicians and corporations that if they won't support us, we won't support them," Zwi said.
"The main barriers we saw were transportation and lodging," she said. "Many of the people are under 18 which means they can't book their own hotel room and the cost is a big issue, too."
Zwi and her classmates, Michaela Hoenig, Kate Lebrun, Mai Canning and Emilio Calvo, started by asking on social media if any Walter Johnson families would be willing to open their homes to march participants to stay for free.
They were overwhelmed, they said, with more than 400 responses. The organizers then reached out to Stoneman Douglas students on social media and asked them to spread the word that free housing was available.
"We thought maybe we'd get 25 or 30 students and maybe a few hosts," said Canning. "It's really heartening and wonderful."
ABC News' Katie Kindelan and Morgan Winsor contributed to this report.