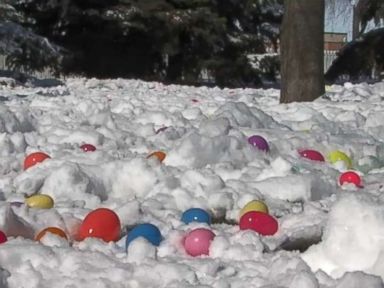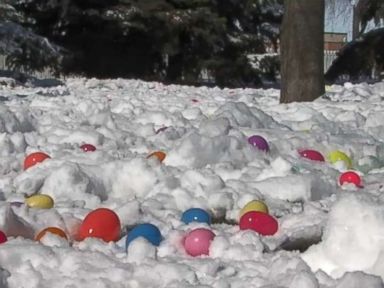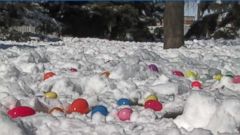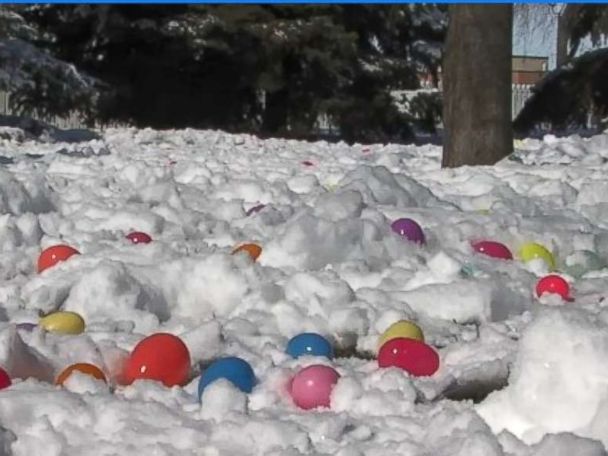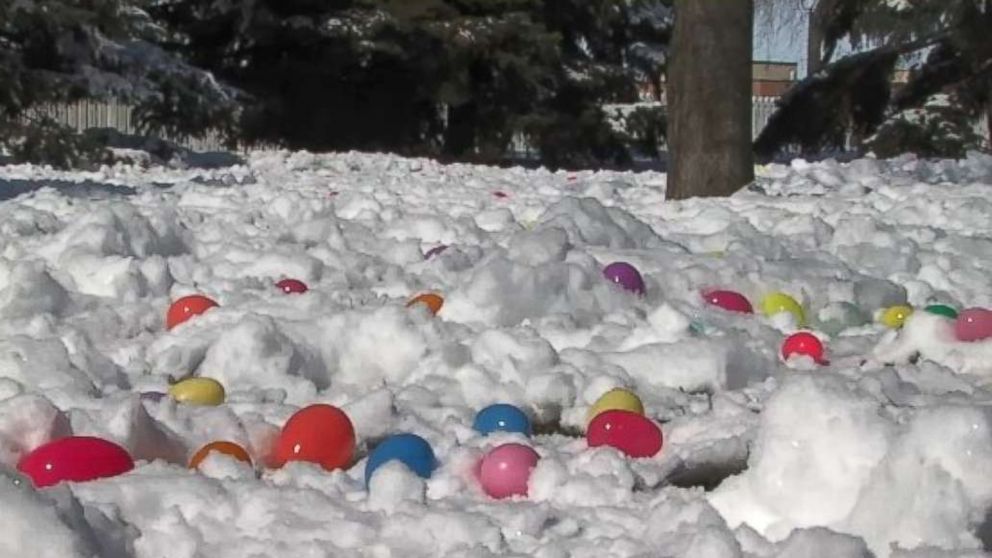 Two different fast-moving storms are set to affect the Midwest and Northeast this Easter weekend. Regardless of snow totals, much of the Midwest and eastern U.S. are entering a pattern similar to late February or early March as opposed to April.
The first storm is moving through the upper Midwest on Saturday morning with heavy snow already falling over parts of North Dakota, Minnesota and Wisconsin. The snow is moving east toward Wisconsin and Michigan later this morning.
A blizzard warning was issued overnight in the greater Fargo area due to the low visibility and gusty winds. Winter storm warnings and winter weather advisories have been posted from the Dakotas to northern Michigan.
Ahead of the storm, gusty winds will be a concern Saturday from Illinois to southern Michigan to western new York — including Chicago, Detroit and Buffalo. Wind gusts over 45 mph are possible, making scattered power outages a concern.
On Easter Sunday another quick-moving disturbance develops in the Central Plains and brings a hit of heavy snow from Nebraska to northern Kentucky. Some mixed precipitation is possible across parts of Missouri during the day on Sunday.
Then on Sunday night, the snow moves across the Appalachians and heads toward the major I-95 cities late in the evening.
The heaviest snowfall totals are expected north of Minneapolis and into western Wisconsin through Saturday night. Locally over 6 inches are expected in the region.
On Sunday, accumulations should only be a couple of inches, mainly on grassy surfaces from Nebraska to Pennsylvania. Locally heavier amounts are expected across the St. Louis and Louisville regions. Regardless of exact snow amounts, the snow should be enough to make roads slick in spots, with low visibility on a busy travel day.
Snow moves into the major I-95 cities late Sunday into early Monday. At this time, it appears the snow will come down fairly heavily in a short period of time overnight. The bulk of the heaviest snow right now is forecast to say south of New York City, but it will have direct impacts in New Jersey, southern Pennsylvania and Maryland.
With temperatures slightly above freezing early Monday, the snow will have trouble accumulating. Regardless, a couple of inches of snow remain possible — especially on colder surfaces. As a result, Monday's morning commute could see some delays.
Behind these storm systems, much colder air will slip into the Midwest and Northeast. Wind chills below zero are likely Sunday morning across parts of the upper Midwest, with single-digits and teens across Des Moines, Iowa; Minneapolis; and Chicago.
On Monday, the cold air makes it all the way to the Northeast. Temperatures on Thursday and Friday in Philadelphia and Washington, D.C. were in the 70s — and on Monday we are forecasting it to feel nearly 40 to 50 degrees colder.
The cold air on Monday makes it down into the Southern Plains and Tennessee River Valley with wind chills in the 30s.
The more concerning part of the forecast is that there is no sign of long-term relief for the Midwest and Northeast. Much of the first half of April will feature below-average temperatures across the region.