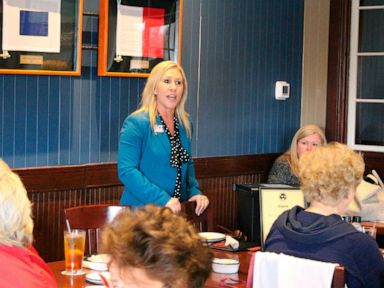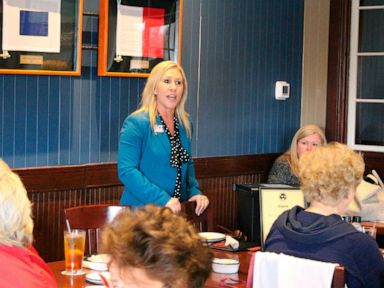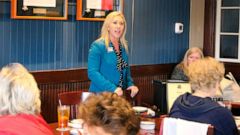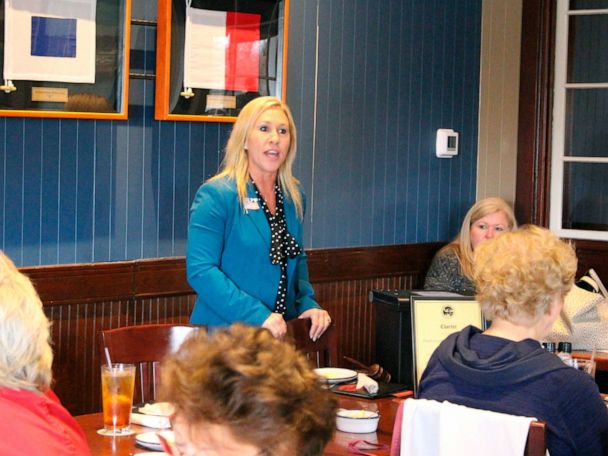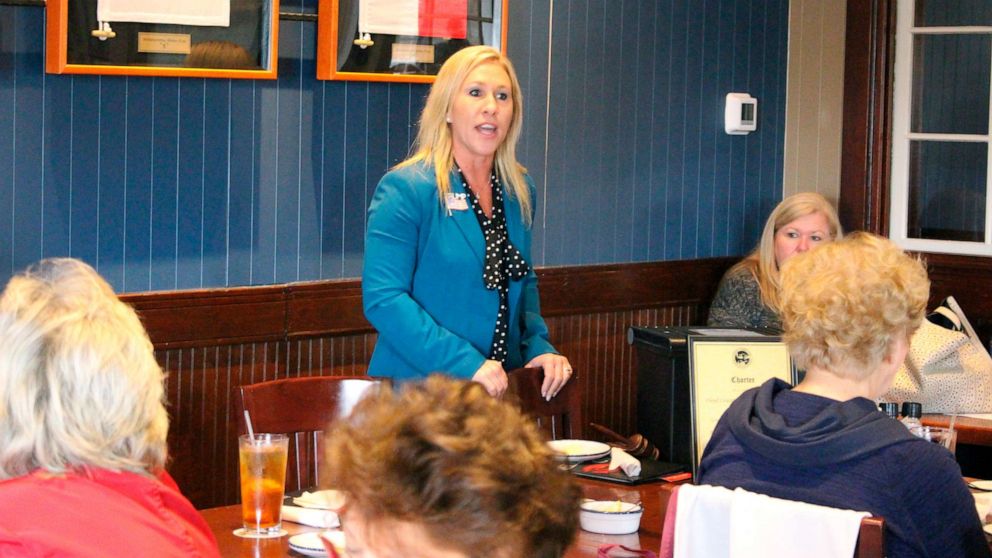 President Donald Trump on Wednesday tweeted support for businesswoman Marjorie Taylor Green, calling her a "future Republican Star" after she secured the Republican nomination for Georgia's 14th Congressional District, despite embracing a fringe conspiracy theory and facing backlash for espousing racist, anti-Semitic and Islamophobic views in past videos.
"Congratulations to future Republican Star Marjorie Taylor Greene on a big Congressional primary win in Georgia against a very tough and smart opponent. Marjorie is strong on everything and never gives up – a real WINNER!" the president tweeted.
Green defeated neurosurgeon John Cowan in Tuesday's runoff election.
"The GOP establishment, the media, & the radical left, spent months & millions of dollars attacking me. Tonight the people of Georgia stood up & said that we will not be intimidated or believe those lies. I'm excited to be the next Congresswoman of GA 14," Greene tweeted Tuesday night. "God bless America."
Greene will face Democrat Kevin Van Ausda, but she's expected to easily win in the solidly-red district, which covers the northwest corner of the state. It's currently represented by Republican Rep. Tom Graves, who announced he wouldn't seek reelection in early December.
The race gained the national spotlight after POLITICO uncovered hours of Facebook videos in which Greene expresses racist, anti-Semitic and Islamophobic views.
Following POLITICO's reporting, many Republicans condemned her comments, including Georgia Republican Reps. Buddy Carter, Drew Ferguson, Jody Hice and Doug Collins, who called the comments an "embarrassment to the entire state."
"The comments made by Ms. Greene are disgusting and don't reflect the values of equality and decency that make our country great. I will be supporting Dr. Cowan," said House Minority Whip Steve Scalise, R-La., in a statement provided to ABC News in June.
A spokesman for House Minority Leader Kevin McCarthy told POLITICO the leader found the comments "appalling" and said he had "no tolerance for them."
However, unlike Scalise, McCarthy chose to remain neutral ahead of the runoff election, his campaign spokesman confirmed to ABC News Sunday.
But Greene maintained the backing of the House Freedom Fund, the fundraising arm of the conservative House Freedom Caucus, and of its first chairman, Ohio Rep. Jim Jordan, a staunch ally of the president.
And despite his statement in June condemning Greene's comments, Collins congratulated Greene on her victory Tuesday, saying on Twitter that he is looking forward to working with her.
In a tweet, David Shafer, chairman of the Georgia Republican Party, congratulated Greene on winning the runoff.
Rep. Cheri Bustos, chairwoman of the House Democrats' campaign arm, said in a statement, "Marjorie Taylor Greene is a next-generation Steve King who is now the Republican nominee for Congress because Minority Leader McCarthy refused to meaningfully oppose her racist candidacy … Her views have no place on the ballot or in Congress. Georgia Republicans, and Republican candidates running across the country, will have to answer for her hateful views in their own campaigns."
ABC News has reached out to the campaigns for the top three Republican leaders in the House — McCarthy, Scalise and Conference Chairwoman Liz Cheney — seeking comment.
Additionally, ABC News has reached out to the House Republicans' campaign arm, the NRCC, for comment. On primary nights, the NRCC typically blasts out statements about GOP candidates' victories, but no statement has come for Greene yet. So far on Tuesday night, statements have only been sent out for Republican victories in Minnesota and Wisconsin.
In the videos, Greene falsely accused Democratic megadonor George Soros — who survived the Holocaust as a child in Hungary — of collaborating with Nazis.
"George Soros is the piece of crap that turned in — he's a Jew — he turned in his own people over to the Nazis," she said in one video POLITICO unearthed.
While it doesn't usually weigh in during primaries, the Republican Jewish Coalition endorsed Cowan, Greene's primary challenger, in July, saying, "The importance of the outcome of this run-off is too great for us to stay on the sidelines."
"Dr. Cowan's opponent, Marjorie Taylor Greene, would take our party in the wrong direction. Greene came to national attention for all the wrong reasons: repeatedly using offensive language in long online video diatribes, promoting bizarre political conspiracy theories, and refusing to admit a mistake after posing for photos smiling side by side with a long-time white supremacist leader," RJC Executive Director Matt Brooks said in a statement.
Greene also said she would feel "proud" to see Confederate monuments if she were Black because it would remind her of how far the country has come. She accused Democrats of "trying to keep the Black people in a modern-day form of slavery … to keep their vote." She also claimed Black Americans have equal rights in this country, saying, "Guess what? Slavery is over," and argued that while males "are the most mistreated group" in the United States.
She targeted Muslim Rep. Ilhan Omar, D-Minn., referring to her as "that woman out of Minnesota" who "has got to wear a head covering," and said that members of Congress should not be allowed to be sworn in using a Quran. She also asserted that "there is an Islamic invasion into our government offices right now," after the 2018 midterm elections, when Omar and Rep. Rashida Tlaib, D-Mich., became the first Muslim women elected to Congress.
In addition to those videos, Greene has also embraced the QAnon conspiracy theory.
In a video originally posted on Facebook Live, which has since been re-posted to YouTube, Greene says that while she doesn't know who "Q" is, she believes he is "a patriot."
"He is someone that is very much — loves his country, and he's on the same page as us and he is very pro-Trump, OK? Now, he appears to have connections at the highest level … it's not just someone poking in the dark, messing with people," Greene said in the video. "He seems to be very high up. He seems to be very close to President Trump."
ABC's "Nightline" reported on the "anonymous internet user" in August 2018, after attendees at a rally for President Donald Trump donned clothing supporting the anonymous figure. The conspiracy started in the dark corners of the internet, on an anonymous message board website called 4chan.
"Q's" followers believe he is part of the president's inner circle with a top-secret security clearance. One of the most outrageous ideas is that prominent members of the Democratic Party establishment and Hollywood are secretly pedophiles and engage in satanic worship.
Another theory that Greene discussed in the 30-minute video is that former special counsel Robert Mueller's investigation wasn't really looking into potential collusion between the Trump campaign and Russia in the 2016 election, but rather Mueller was "really looking into a lot of other very bad criminals that need to be taken down," and the reported contents of the investigation is to "lower the guard of … all these different people that are in the swamp," Greene said.
After running through several of the QAnon conspiracies, Greene said, "I'm not presenting them that they're fact, but I am presenting them that I'm hoping they're facts."
Greene had originally been running the state's 6th Congressional District, a November battleground currently represented by freshman Democrat Lucy McBath. Shortly after Graves announced his retirement, Greene switched districts. Former Rep. Karen Handel won the Republican primary in June.