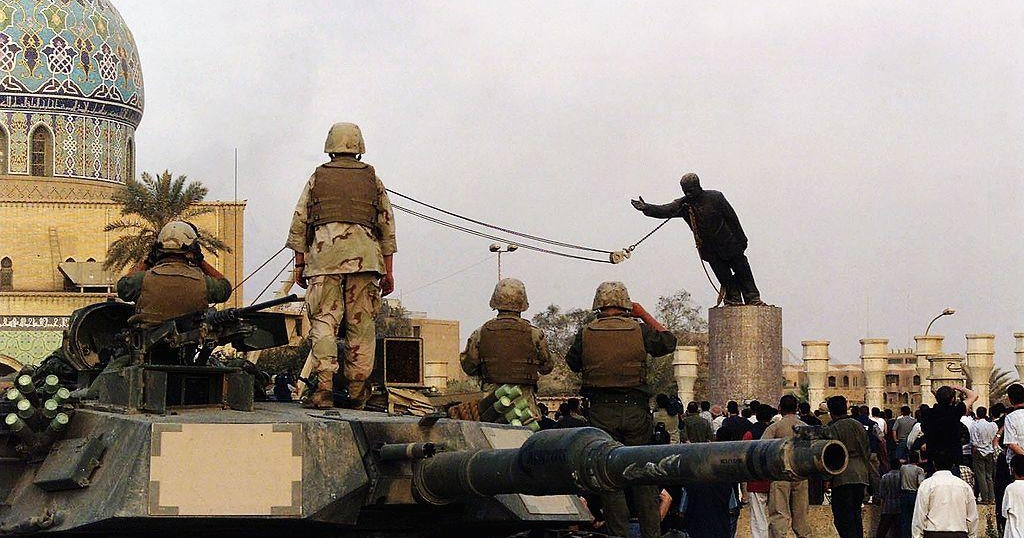 Washington — The Senate is expected to vote Wednesday on legislation that repeals the legal justifications used to attack Iraq in 1991 and 2003, a rare bipartisan effort by Congress to revoke the authority to wage war from the executive branch more than 20 years after the start of the Iraq War.
The resolution revokes the 2002 authorization for the use of military force, or AUMF, that Congress adopted ahead of the 2003 invasion, as well as the 1991 authorization for the first Gulf War. The measure is expected to pass easily, having cleared procedural hurdles by a comfortable margin. Majority Leader Chuck Schumer said on the Senate floor Tuesday that senators "should expect final passage on repealing the Iraq AUMFs as soon as tomorrow."
Proponents of repealing the authorizations say doing so is necessary to prevent future presidents from abusing their power and does nothing to hamstring counterterrorism efforts.
"Let me be clear, nothing we are doing here prevents an American president from acting in self-defense or in the face of imminent threats to our American nation," Senate Majority Whip Dick Durbin said Monday on the Senate floor. "Repealing these AUMFs doesn't preclude Congress from debating and possibly passing another AUMF to address future threats."
The legislation must still be passed by the House, where lawmakers on both sides of the aisle are open to taking action. In 2021, when Democrats controlled the House, the lower chamber voted to repeal the 2002 authorization, but it never received a vote in the Senate. Forty-nine Republicans joined nearly all Democrats in voting for repeal at the time.
House Speaker Kevin McCarthy told reporters at a Republican retreat in Florida earlier this month that the measure repealing the war authorizations would likely make it to the floor for a vote.
"It'll have to go through committee," McCarthy said. "I think it has a good chance of one getting through the committee and getting to the floor."
The White House has said President Biden supports repealing the 1991 and 2002 authorizations and is open to replacing "outdated authorizations" with a "narrow and specific framework more appropriate to protecting Americans from modern terrorist threats."
The Senate rejected a number of amendments on the repeal resolution, including Republican Sen. Rand Paul's amendment to repeal the separate 2001 AUMF targeting those responsible for the Sept. 11 attacks, which still forms the legal basis for many U.S. counterterrorism efforts. An amendment from Republican Sen. Lindsey Graham to authorize force against Iranian-backed militias operating in Iraq also failed.
The ability to target Iran's proxies in Iraq has been a driving issue for Republicans who oppose repealing the authorizations. Attacks on U.S. bases in Syria last week, in which several U.S. service members were wounded and an American contractor was killed, underscored their concern. Mr. Biden ordered strikes against facilities in eastern Syria used by groups affiliated with Iran's Revolutionary Guard in response.
"While I understand theoretically why we want to get rid of the 2002 AUMF because Saddam [Hussein] is gone, I don't understand why we're leaving this vacuum and this doubt," Graham said Monday on the Senate floor, referring to the late Iraqi dictator. "This is easily fixed. You're creating a narrative that's going to come back to haunt us. You think it's an accident within like two days of introducing this idea that they hit us in Syria again?"
Supporters of a repeal said Mr. Biden didn't need congressional authority to retaliate against Iranian-backed groups.
"The president looked at the intelligence, he consulted his advisers, he ordered a strike," Democratic Sen. Bob Menendez said Monday. "And he committed publicly to continue to defend against Iranian aggression and to respond to attacks against U.S. forces. He did so without — without — relying on the 1991 or 2002 authorizations for use of military force against Iraq."
The Senate also rejected an amendment from Republican Sen. Marco Rubio that would have halted the 2002 repeal until the Biden administration certified that Iran has stopped supporting terrorist organizations and violent groups in Iraq and Syria.
During a Senate hearing on the Defense Department's budget on Tuesday, Republican Sen. Tom Cotton questioned whether the administration delayed informing Congress about last week's Syria attack because of the Rubio amendment.
"Do you believe you should've notified us that morning while we were voting on amendments directly related to this kind of attack?" Cotton asked Defense Secretary Lloyd Austin.
Austin denied there was a connection between the amendment vote and notification to Congress, but Cotton was unconvinced.
"I believe there was a conscious decision made not to inform Congress because you fear it might lead to passage of the Rubio amendment, which would kill the entire bill," Cotton said.
President Barack Obama formally ended the Iraq War in 2011 and ordered the withdrawal of U.S. troops, marking "a new phase in the relationship between the United States and Iraq." Three years later, U.S. troops returned to fight the terrorist group ISIS, and the Obama administration cited the 2002 authorization as the legal justification for military operations against the militants.
Mr. Biden has generally cited the 2002 authorization several times when informing Congress of military action, but hasn't specifically invoked it for any single incident, based on a review of White House notifications to Congress.
In 2020, then-President Donald Trump used the 2002 authorization as part of the legal justification for an airstrike that killed Iranian military leader Qassem Soleimani in Baghdad. Congress responded to that strike by passing a resolution prohibiting military force against Iran, but Trump vetoed it.