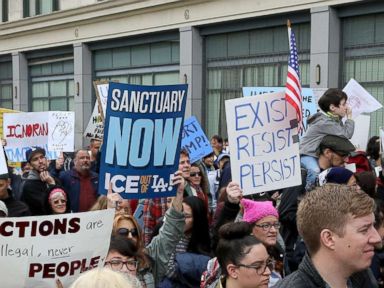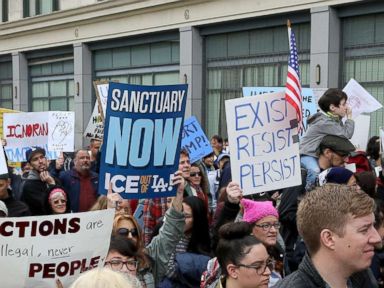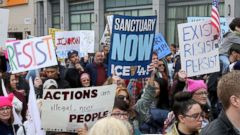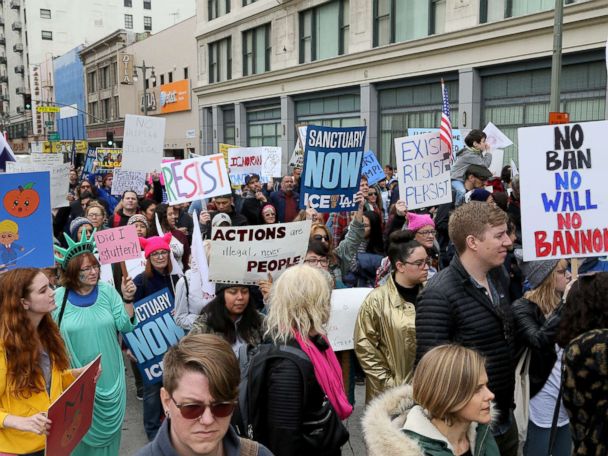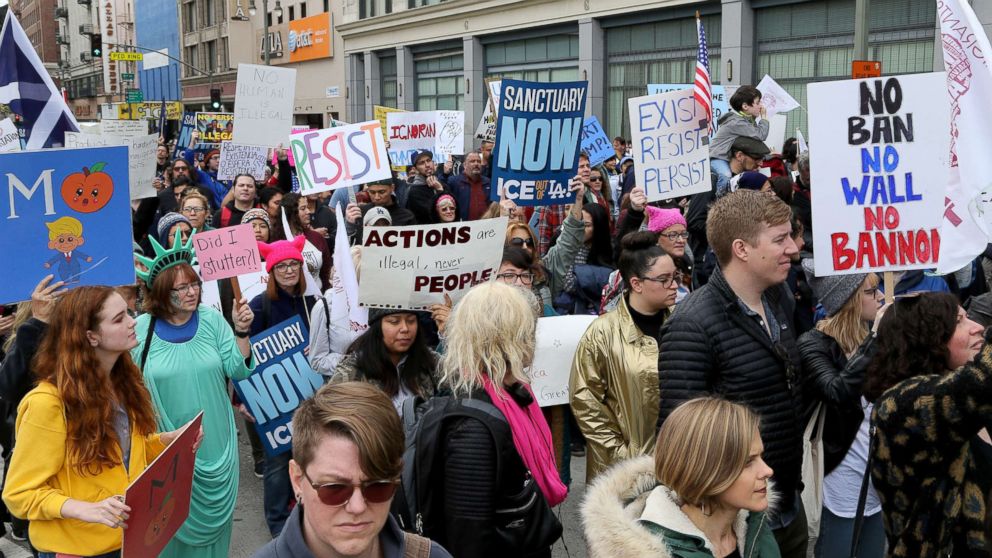 Tucked away in a small strip mall between an Outback Steakhouse and a CVS Pharmacy, the casual, take-out Mexican restaurant, Baja Fish Tacos, was unassuming from the outside but packed during lunch.
Working professionals in suits and ties ordered alongside casual families and people in blue-collar uniforms. Ethnically, the clientele seemed as diverse as the rest of the area.
A few members of the wait staff and a handful of customers spoke in Spanish. Two Latina nannies, one originally from Mexico and another from Honduras, cared for a trio of towhead blonde little ones at one table in the back corner.
Sitting a table adjacent to them, Mike Willoughby, a middle-aged, white lawyer in town, was direct and unwavering when asked about one of the hot-button political topics in town: the state's so-called "sanctuary state" law.
"It's obscene; it's ridiculous. We are going back to the Civil War era," he said, arguing that the state of California was defying federal authorities and crossing a line with its new law passed last year. "For California to snub their nose at federal law, when it is as clear as day that the Constitution puts [immigration] with the federal government, it's craziness."
Last month, Costa Mesa became the latest in a growing number of cities south of Los Angeles in the Orange County, to officially oppose the state's California Values Act. The state law expands protections for undocumented immigrants by preventing, in many cases, local law enforcement from holding people at the request of federal immigration agents. The law also limits some information sharing between local law enforcement and federal immigration agents about select inmates.
The local branch of the American Civil Liberties Union describes the law as designed so "no state or local resources are diverted to fuel any attempt by the federal government to carry out mass deportations."
Half a dozen local governments in the Orange County area have taken legal action against the state over the issue.
Since President Donald Trump's election, Democrats have been itching to see if they can make inroads in this traditionally Republican enclave. President Richard Nixon was born in Orange County and people here cherish President Ronald Reagan's legacy, but Hillary Clinton outperformed President Trump in this part of the state.
After two high-profile congressional Republicans in the area decided to retire this cycle, political forecasters predicted Democrats might be able to pretty easily pick up seats.
But now some on the ground say this one immigration issue could be rallying Republicans, when Democratic energy was thought to be surging. In many ways, the topic at least serves as a reminder of this area's deep conservative roots.
Republican Scott Baugh, a former state Assemblyman, who is running an insurgent campaign against incumbent Republican Congressman Dana Rohrabacher in California-48, has focused heavily on the issue and says he is confident the topic is animating voter to the polls.
"It is an affront to the Constitution; it is an affront to governance; it is an affront to an orderly process of government," Baugh told ABC News Monday while knocking on doors. "It is so arrogant that the elites in Sacramento would do this, that it has caused this backlash."
On issue after issue over the last 18 months, California has positioned itself as a check on the Trump administration, filing lawsuits and passing local measures on environmental and consumer regulations to serve as a backstop against the White House.
In Orange County, though on this issue, voters may decide they want to be a check on the progressive state government instead.
Steven Shepherd, an architect in Huntington Beach who says he normally votes for Democrats, told ABC News he thinks Rohrabacher's district where he also lives, is still pretty conservative. He said he was "quite shocked" Clinton actually won.
Shepherd wrote a letter to The Los Angeles Times to express his disapproval and frustration when his city voted to oppose the state law. "Sadly, it is really a politically issue, though they try to spin it as a public safety issue. It is really just red meat for the conservative right… a publicity stunt to get reelected based on fantasies about illegal immigration," he told ABC News on the phone.
"I think it is needlessly hateful, but more than anything what really upsets me is that our city council has taken up an issue that they really did not need to get involved in," Shepherd said.
One of the Democrats hoping to unseat Rohrabacher, Hans Keirstead, pointed out that cities opposing the state were still outnumbered. He argued the local city councils leading the charge were in fact out of touch with constituents.
"It is because Democrats have been doing a horrible job of down ticket placements," Keirstead said. He said the city councils were full of "far right" Republicans.
Back in Baja Fish Tacos, retired schoolteacher Michael Steinman, said he worried lawlessness in the states has gotten out of control and argued California was acting too much like a "surrogate for Mexico." He shared a story to showcase how divisive the sanctuary state debate is in the community. Steinman said, during a conversation with ABC News, that he posted on Facebook "via Los Alamitos, the only American city in California," after a small town in Orange County, Los Alamitos, decided to challenge the state and opt-out of the sanctuary measure.
"Somehow that got back to my principal, who called me into the office," said Steinman. He said he was reprimanded. "Freedom of speech does not exist like we think it should, and that shows the political climate here."
WATCH LIVE TUESDAY: You can watch livestreaming coverage of all the primary action starting Tuesday at 10 PM Eastern/7 PM Pacific on ABCNews.com or on the ABC News app available on the Apple App Store, Google Play Store, Apple TV App Store, and Roku Channel Store.
Don't forget to sign up for Midterm Elections Alerts to get more coverage of this year's election season from our powerhouse politics team.