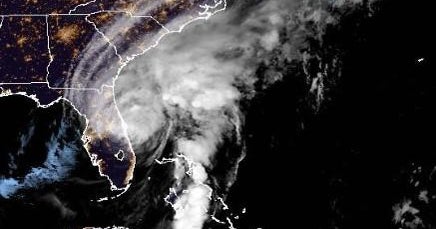 Hurricane Ian's winds diminished enough overnight for it to be downgraded to a tropical storm by the National Hurricane Center in Miami, but it was still packing a strong punch as it made its way across Florida toward the Atlantic Ocean. Storm surges remained a big concern.
Ian made landfall near Cayo Costa, Florida, in southwestern Florida Wednesday as a major Category 4 storm — the second-strongest possible category on the Saffir-Simpson Hurricane Wind Scale, according to the hurricane center.
But by 5 a.m. EDT Thursday, Ian's sustained winds were 65 mph, 9 mph below the threshold to be a hurricane.
Ian's center was some 40 miles southeast of Orlando and 35 miles southwest of Cape Canaveral. It was heading northeast at 8 mph.
Ian knocked out power across wide swaths of Florida, particularly in counties in the southwestern part of the state. The number of homes and businesses in the dark topped 2.5 million shortly after 5 a.m. EDT, according to poweroutage.us.
That region quickly felt Ian's impact after it made landfall.
"We have seen life-threatening storm surge, as was predicted," Florida Gov. Ron DeSantis said at a press conference Wednesday evening. "We've also seen major flooding in places like Collier County, Sanibel, Fort Myers Beach."
DeSantis said the storm surge likely peaked at about 12 feet.
While it's still too early for officials to assess structural damage, flooding swept away cars and buildings, and downed power lines sparked fires in coastal towns. Several cities asked residents to conserve water as flooded water facilities struggled to keep up with demand.
The governor and other state officials warned Wednesday evening that as Ian moved inland, residents in central and northeast Florida could see tornadoes, high winds and flash flooding. Several counties near Jacksonville and St. Augustine were under full or partial evacuation orders.