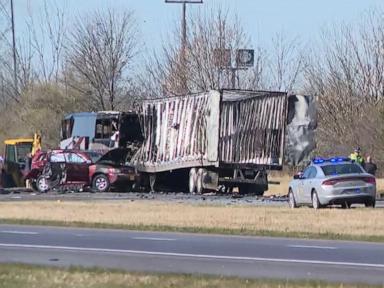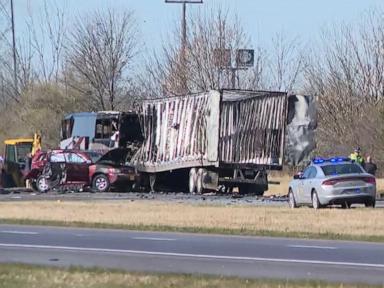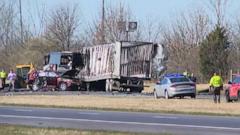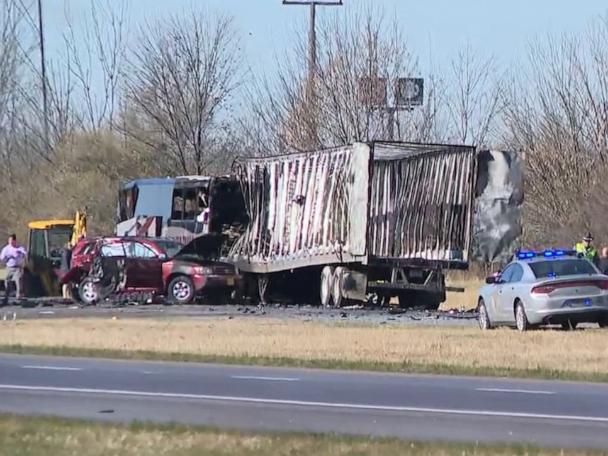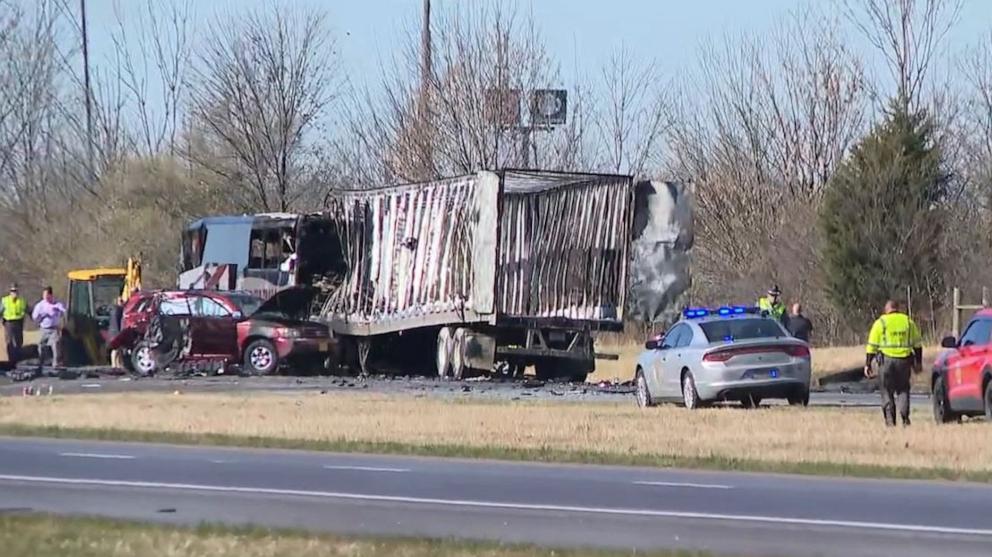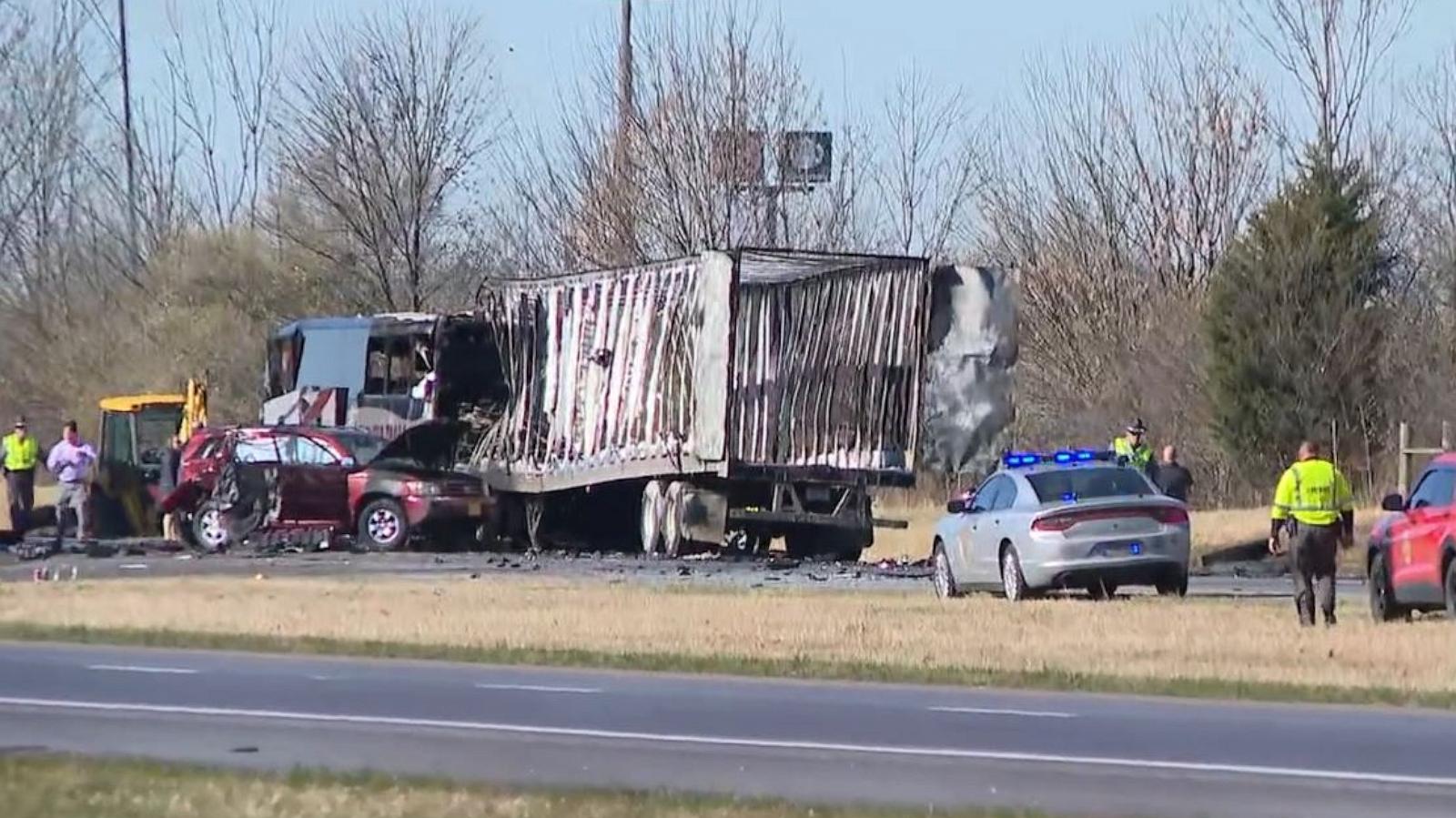 Six people, including three teenagers, were killed in a multi-vehicle crash on an Ohio highway Tuesday morning involving a charter bus carrying high school students, officials said.
More than a dozen people were also injured in the crash, which occurred on Interstate 70 in Etna shortly before 9 a.m. local time, according to the authorities.
Five vehicles — the charter bus, as well as two commercial vehicles and two passenger vehicles — were involved in the "chain-reaction crash" while traveling westbound on the highway, Ohio State Highway Patrol said. At least three vehicles subsequently caught fire, it said.
The Pioneer Trails charter bus was transporting students from Tuscarawas Valley Local Schools at the time, according to Ohio Gov. Mike DeWine.
"Let me just say that this is our worst nightmare when we have a bus full of children in a crash," DeWine said during a press briefing Tuesday.
National Transportation Safety Board chair Jennifer Homendy said at a press conference Tuesday night in Columbus, that behind the bus was an SUV carrying passengers traveling with the bus group.
The vehicles reached a traffic queue, Homendy said, however, there is currently conflicting information on the sequence of events in the accident.
Three of the passengers on the charter bus were pronounced dead at the scene — John Mosely, 18, of Mineral City; Jeffery Worrell, 18, of Bolivar; and Katelyn Owens, 15, of Mineral City — Ohio State Highway Patrol said Tuesday evening.
Fifteen students and the bus driver were transported to area hospitals, state police said.
All three passengers in one of the passenger vehicles were also pronounced dead at the scene — Dave Kennat, 56, of Navarre; Kristy Gaynor, 39, of Zoar; and Shannon Wigfield, 45, of Bolivar — state police said.
The driver of one of the commercial vehicles was transported to a hospital with non-life-threatening injuries, and the driver of the other commercial vehicle was treated and released at the scene, state police said.
The driver of the second passenger vehicle was transported to an area hospital, state police said.
Tuscarawas Valley Local Schools superintendent Derek Varansky said earlier Tuesday that students and chaperones were traveling to the Ohio School Boards Association conference in Columbus when their charter bus was involved in a "very serious accident."
A total of 54 students and chaperones were on the bus, state police said.
In addition to high school students, parents and teachers were among those on board, according to the Ohio State Highway Patrol's Tuscarawas office.
Pioneer Trails said it is "fully cooperating with the authorities as we work to find the cause of the accident."
"Our thoughts and prayers go out to all of those impacted by this accident," the company said in a statement. "As this is an ongoing investigation, there will be no further comments."
Homendy of the NTSB said agents will go to the scene of the crash on Wednesday to begin the investigative process, which includes collecting things like cameras from vehicles or the motorcoach, if they have them.
Investigations typically take 12-18 months, however in the next few weeks, the agency will issue a preliminary report about the crash, Homendy said.
ABC News' Alexandra Faul, Sam Sweeney and Jolie Lash contributed to this report.