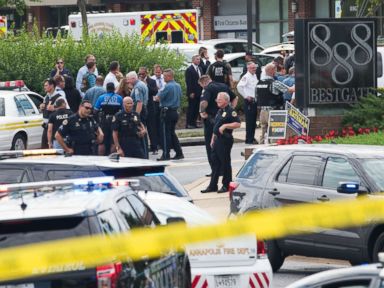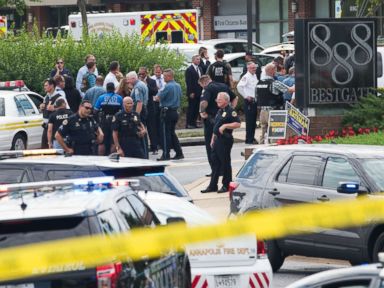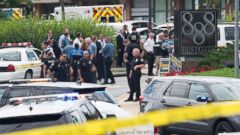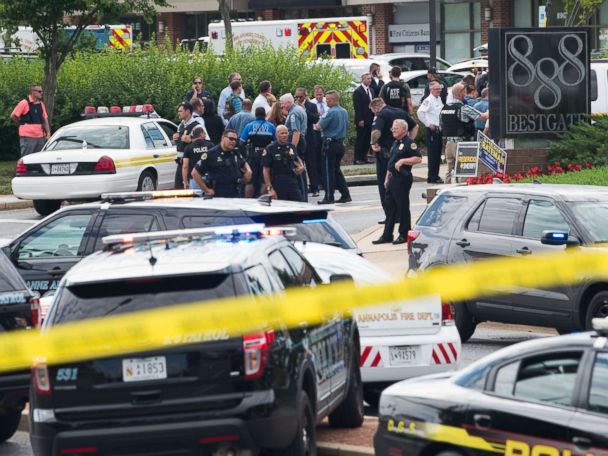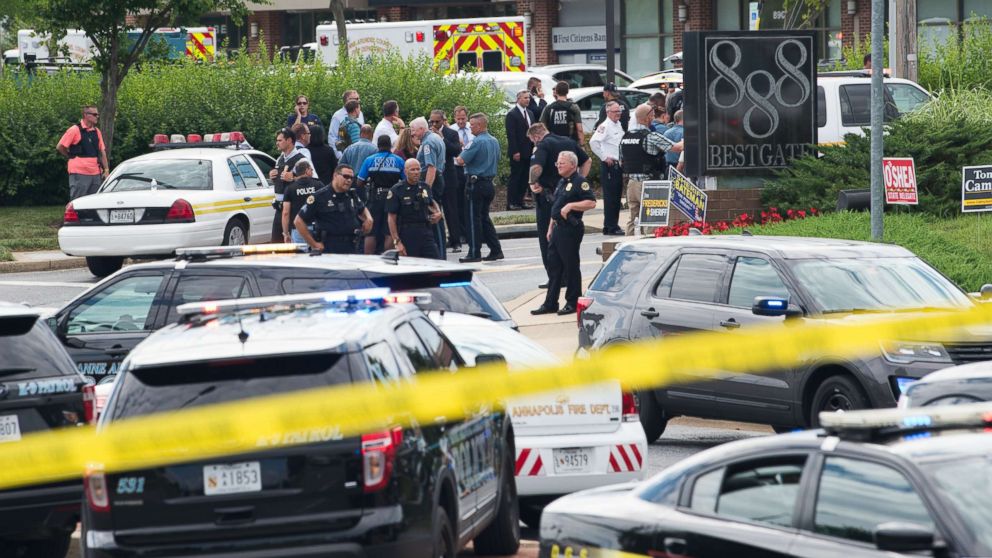 Much is unknown about the suspect who allegedly entered the first-floor newsroom of the Capital Gazette in Annapolis, Maryland, and opened fire on unsuspecting journalists. But despite the suspect's unwillingness to cooperate with authorities, a picture is beginning to develop about his motives for the shooting, which killed five people.
The Anne Arundel County Police Department has not identified the alleged shooter, but law enforcement sources told ABC News his name is Jarrod Warren Ramos. Court records show Ramos is due for a bail hearing at 10:30 a.m. at Annapolis District Courthouse and he has been charged with five counts of first-degree murder.
The 38-year-old native of Laurel, Maryland, about 30 minutes inland from Annapolis, apparently had a long-standing grudge against the local newspaper.
Tom Marquardt, former Editor and Publisher of the Capital Gazette, told ABC News that he first "crossed paths" with Ramos in 2012 when the Gazette wrote a story about the now alleged suspect in connection with a stalking case.
"Our court reporter had written about a case he had in which he was a defendant in a stalking case and he was, Jarrod was, quite upset with the story and he really created a webpage that allowed him to vent and express his frustration and his anger towards me, the reporter and the newspaper," Marquardt said. "Shortly after that he filed a defamation lawsuit against us."
The lawsuit was the beginning of an ongoing campaign of hatred directed toward the Gazette, Marquardt said.
"He represented himself and took advantage of the legal system to keep the case alive for a long period of time during which he sued lawyers, judges, anybody who crossed his path and disagreed with him," he said. "During that time he continued to rant on his Facebook page to a point that we were feeling threatened physically from what he was saying. So during that time we had consulted with our own lawyers in the best steps that we could take, as well as the police, and we had actually contacted the police to pursue one particular comment in which he wished I would be dead and the police looked into it."
Ramos' legal action against the newspaper was unsuccessful, Marquardt said, and the suspect exhausted all of his appeals by 2014.
Marquardt said he could only comment on threats made against himself, but knew Ramos had wished him dead in the past on social media.
"We contacted police [and] had several conversations with the county police department and they went out to talk to him," he said. "They reviewed all the tweets so far and again came away with the feeling that there really wasn't enough substance there to pursue a case in court.
"I was incredulous when that happened and I told my attorney that I'm not certain what one has to do to make it any clearer that he wanted to kill me and they said that they wanted to continue to monitor the webpage postings after that," he added.
Police would not confirm any specific threats made by Ramos on social media, but said they were aware of them.
"Before I give you the information on the victims, I want to say something about social media. The police department is very, very aware of what information you have on social media," Anne Arundel County Police Deputy Chief Bill Krampf said at a Thursday night press conference. "But we have an obligation and a responsibility to these victims that we get it right and we only get that once."
All five victims in the shooting were employees of the Capital Gazette newspaper, authorities said.
Police identified them as Wendi Winters, Rebecca Smith, Robert Hiaasen, Gerald Fischman and John McNamara.
Winters, 65, was a writer who worked for special publications. Smith, 34, was the youngest victim and only non-journalist to be killed. She worked as a sales assistant for the paper. Hiaasen, 59, was the assistant editor for news and a columnist at the paper. He was the brother of noted author Carl Hiaasen.
Fischman, 61, was an editorial page editor and regularly wrote opinion pieces for the paper. McNamara, 56, was a staff writer covering Bowie, Crofton and West County.
Two people who were injured in the shooting, neither by gunfire, were released from the hospital overnight.
Reporters and editors for the Gazette vowed in the wake of the attack they would publish a paper even after the death of five of their colleagues. The paper arrived on doorsteps and at convenience stores as promised, with a headline of, "5 shot dead at The Capital."
Condemnation for the attack came before most of the details were known.
President Donald Trump tweeted he was briefed on the shooting in Wisconsin and said his "thoughts and prayers" were with the victims and families.
Maryland Gov. Larry Hogan called the attack "heinous" and said there was "no place in our society for this kind of hatred and violence." Hogan is a native of Annapolis.
A vigil was planned for 8 p.m. Friday night at Susan Campbell Park.
Free America Network Articles