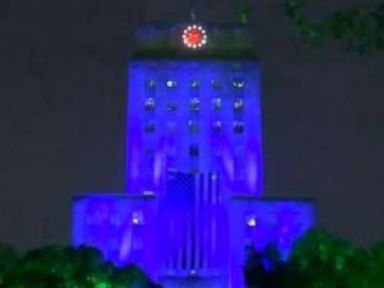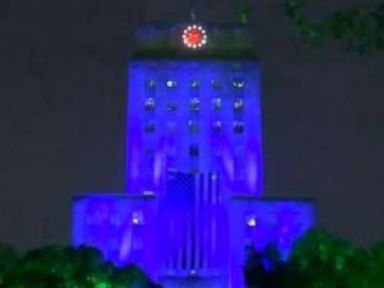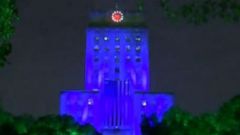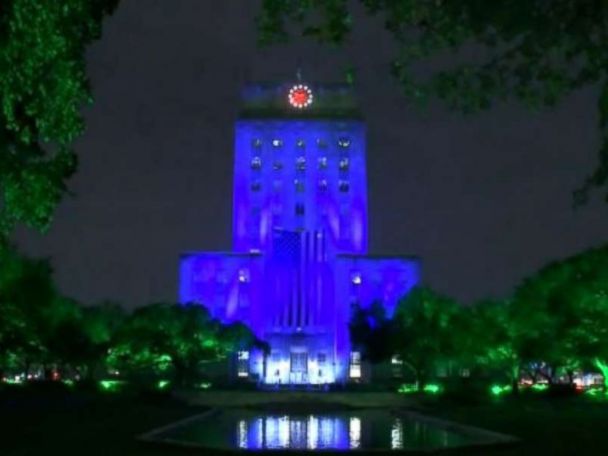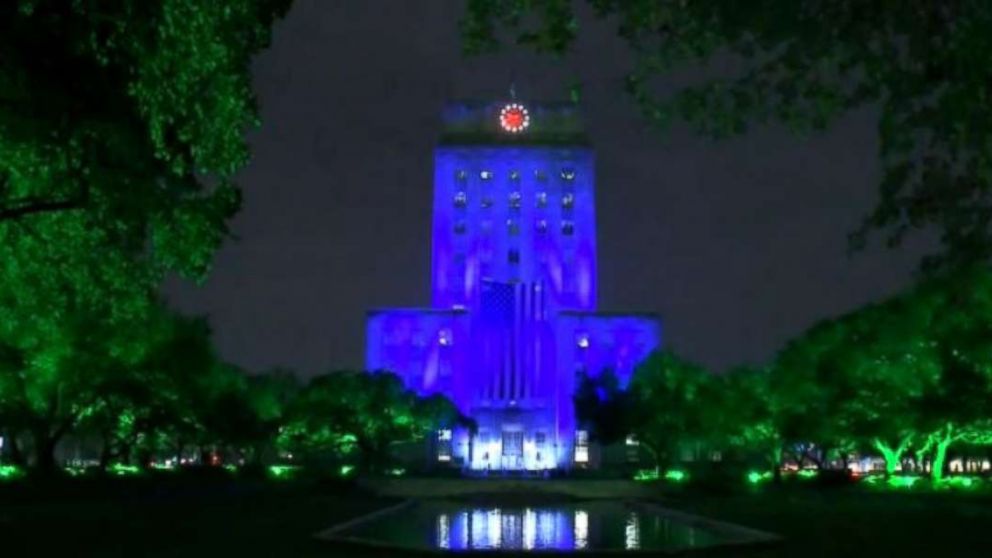 The city of Houston glowed bright blue on Wednesday in honor of Houstonian and former first lady Barbara Bush, who died this week.
Houston's City Hall building lit up in blue, Bush's favorite color, on Wednesday night as a part of a multi-day tribute, Mayor Sylvester Turner said.
"Barbara Bush was a wonderful role model to the world, but also gave more to Houston than she received," Turner said in a tweet. "City Hall will be bathed in light blue light in her memory."
Bush died at her Houston home Tuesday night with her husband, former President George H.W. Bush, and other family members by her side. She was 92.
Turner said he will lead a public "celebration of life" for the Bush family matriarch on Thursday at City Hall, where attendees are "encouraged to wear pearls or the color blue as a tribute."
He encouraged residents to leave "offerings of flowers, teddy bears or personal notes" at the Houston Central Public Library Barbara Bush Plaza, located in the city's downtown area.
"It warms my heart this evening to see the outpouring of love and respect Houstonians are showing for former first lady Barbara Bush at city hall and the Barbara Bush Literacy Plaza," Turner wrote in a tweet late Wednesday. "Please join me Thursday evening at 6 p.m. when we celebrate her life and legacy."
The celebration will include remarks by prominent religious leaders and performances by the Houston Children's Chorus, the city said in a statement.
The event will also feature interfaith prayers and a reading of a special poem "written for the occasion," the city said.
The children's chorus said it will perform a selection titled "A World of Difference," one of Mrs. Bush's favorites, at Thursday's ceremony.
The song "talks about it takes each of us to do our part to make the world a better place," Houston Children's Chorus founder, Steve Roddy, told local news outlet KPRC. "And she loved that song and they requested that song several times from us.
"Every time we would sing for them [the Bushes], or with them, or whatever at some event, she would get in the middle of the kids and get a picture taken with the kids … She wouldn't let us leave until she had a picture taken."