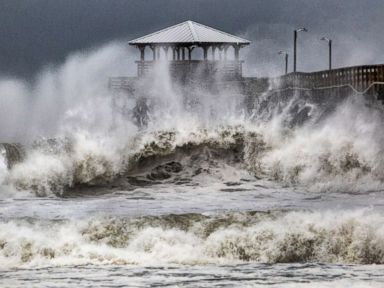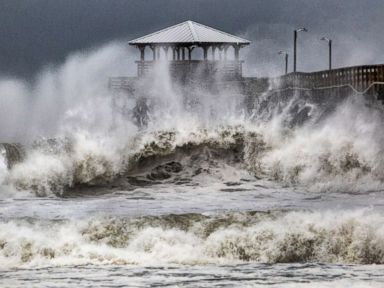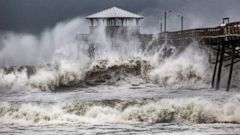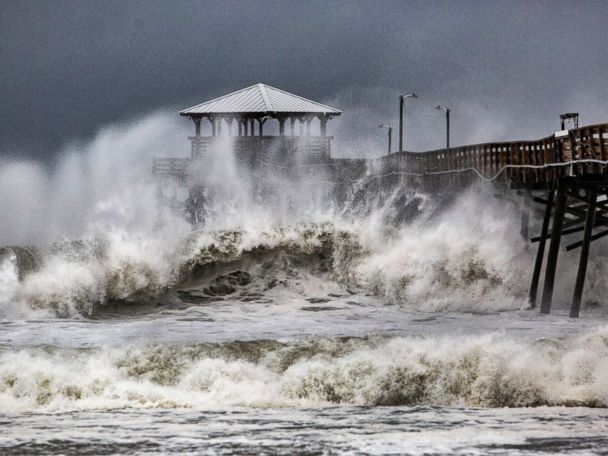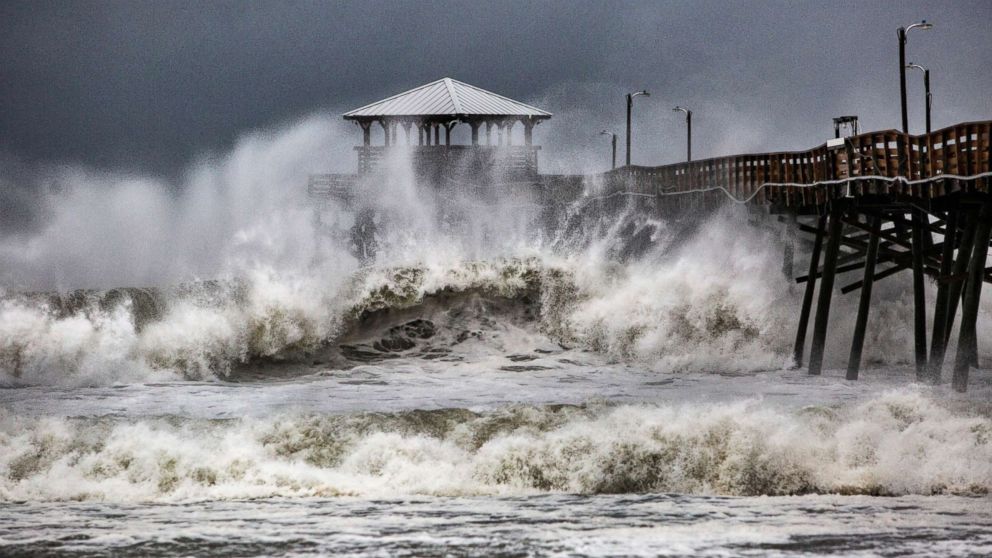 Hurricane Florence is pummeling the North Carolina coastline, making landfall with life-threatening storm surges and hurricane-force winds.
"I see a biblical proportion flood event that's going to occur," Wilmington, North Carolina, Police Chief Ralph Evangelous told ABC News. "I see the beach communities being inundated with water and destruction that will be pretty, pretty epic in nature."
More than 372,000 customers in North Carolina are without power early Friday, as residents brace for the impact of the Category 1 storm.
Here's the latest:
Catastrophic flooding is expected for much of the coastal Carolinas. Rainfall has already reached as many as 2 inches per hour in parts of eastern North Carolina.
More than a foot of rain has already drenched Atlantic Beach, North Carolina.
In Bayboro, North Carolina, one of the areas under evacuation, resident Kim Dunn stayed behind, and now she's trapped in her truck surrounded by rising water, as her boyfriend and his cousin are stranded on a paddle boat less than a mile away.
The water is as high as street signs, and "we have no way to get to them," Dunn told ABC News Friday morning.
"They've been out there for about six hours now just screaming for help," she said. "Only communication we have with them is just me flashing my lights to them and I think they have a flashlight they're flickering back to us."
Dunn, the mother of a 10-month-old, a 3-year-old and an 8-year-old, said she made a decision to stay behind as others evacuated.
"We were trying to figure out if we had enough finances to get out and if we were to get out, were we going to be able to get back home. So we made a decision to stay," she said. "I don't know how long it's going to be before the water actually starts to come into the apartment."
In nearby New Bern, where water levels reached 10 feet overnight, 150 people have requested a rescue. Volunteers are using private boats to pitch in and help, city spokeswoman Colleen Roberts said.
The downtown area, at the confluence of two rivers, is mostly underwater.
"This is twice the size of Hurricane Hugo," which tore through the Carolinas in 1989, New Bern Mayor Dana Outlaw told "Good Morning America."
New Bern residents "need America's prayers," he said.
The city said on Twitter, "You may need to move up to the second story, or to your attic, but WE ARE COMING TO GET YOU."
The rainfall is forecast to reach 20 to 40 inches over the next several days.
Storm surge could be as high as 11 feet in parts of North Carolina, prompting officials to closely watch the rise of rivers in the eastern part of the state. River flooding may be worse than Hurricane Floyd in 1999.
The Cape Fear River is expected to be at major flood stage by Sunday and record flood stage by Monday.
"Surviving this storm will be a test of endurance, team work common sense and patience," North Carolina Gov. Roy Cooper said Thursday. "The heavy rains and high winds are likely to spread across North Carolina and linger for days.
"We will survive this, and we will endure."
ABC News' Alex Faul, Nick Coulson and Kieran Mcgirl contributed to this report.