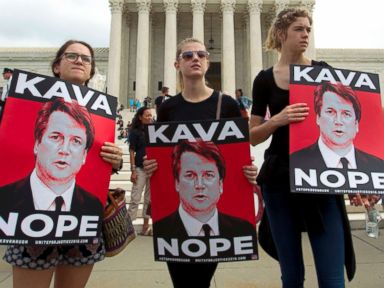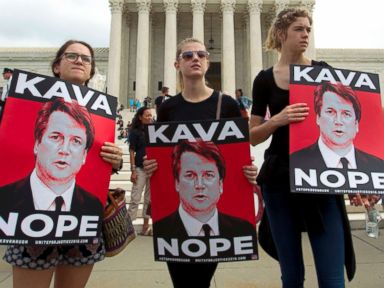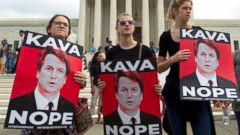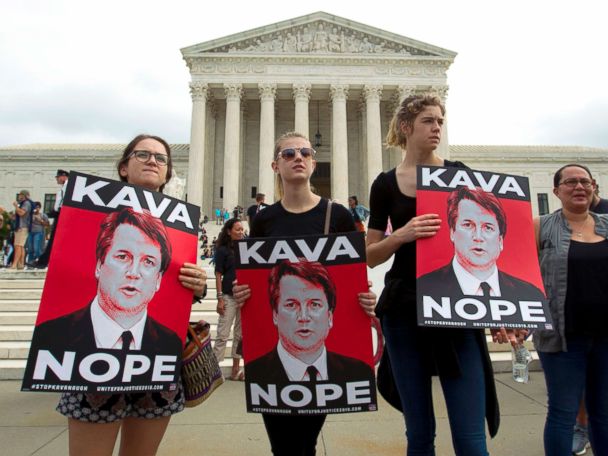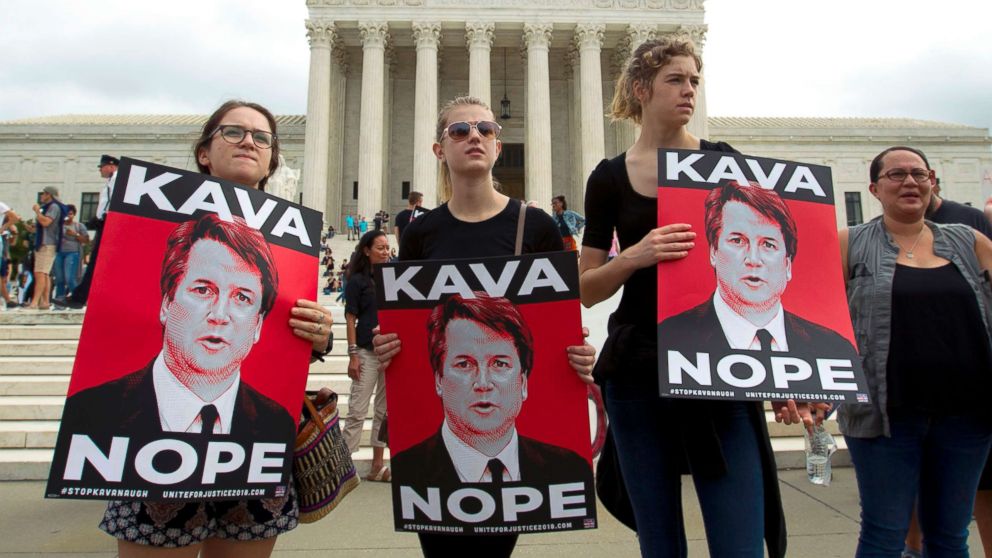 The tally among senators suggests the fight against Brett Kavanaugh's Supreme Court nomination may be over but that hasn't stopped protesters from taking to the streets.
Hundreds of protesters hit the streets of Washington, D.C., as the Senate is expected to vote on Kavanaugh's nomination between 3 and 5 p.m. Saturday.
Streams of demonstrators were seen marching to Capitol Hill and in front of the Supreme Court, both of which have been the staging ground for thousands of protesters over the past few weeks.
More than 100 protesters appeared to be arrested by Capitol Police on the steps of the Supreme Court early Saturday afternoon, though no official numbers have been released.
Some of the chants heard in the crowd included ones like "Arrest sexual predators, not protesters," and "Hey hey, ho ho, Kavanaugh has got to go."
Kavanaugh's contentious confirmation process has drawn protesters from across the country.
The majority of the protesters appeared to be demonstrating against his nomination and in support of sexual assault survivors.
Kavanaugh, who has been accused by three different of sexual misconduct, has denied all of the allegations.
There have also been smaller pockets of protesters who are standing up for Kavanaugh and backing his nomination.
President Donald Trump even weighed in about the Kavanaugh supporters on Saturday, writing on Twitter that they are "a beautiful thing to see – and they are not paid professional protesters who are handed expensive signs."
His praise of the pro-Kavanaugh demonstrators came a day after he tweeted unsubstantiated claims about the anti-Kavanaugh protesters, writing that they were "very rude" and "paid professionals only looking to make Senators look bad."
He also suggested, without any evidence, that they were paid by Democratic donor George Soros.
Protests are also being organized in cities across the country, including in Atlanta and New York City.
The Washington protesters have been making themselves known throughout the week, sometimes directly confronting Senators outside their offices.
That happened with Sen. Joe Manchin, D-W.V., moments after his office released a statement Friday announcing that he, long viewed as a possible swing vote, was going to vote in support of Kavanaugh.